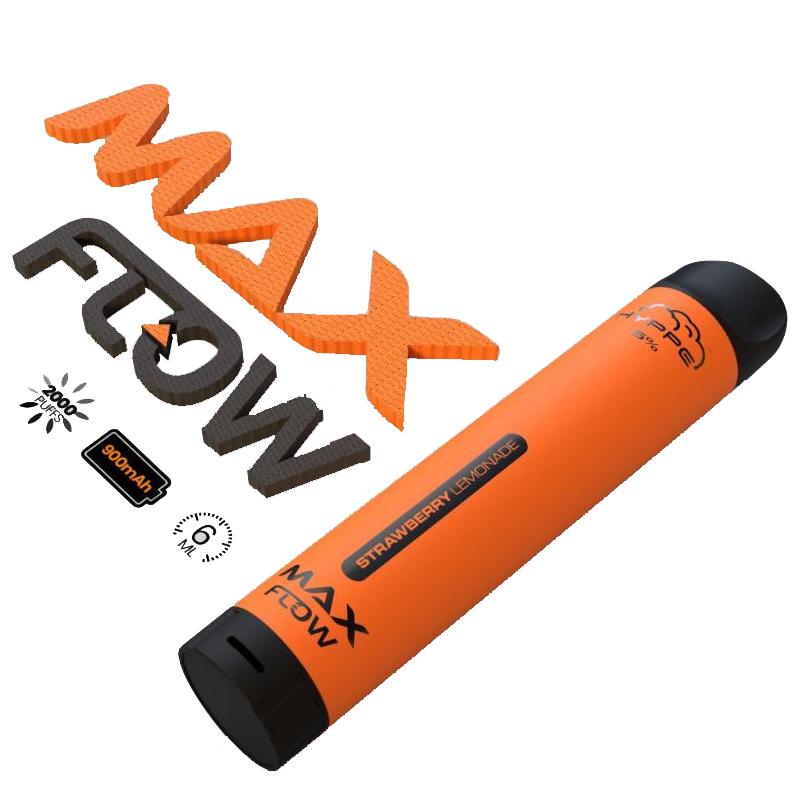 Allowing you to splurge in a range of tastes, there is nothing more pleasing than the HYPPE Max Flow Disposable Vape. It is an outstanding vaping device that quenches your tastes, satisfies your cravings, and provides the performance you desire to make for a successful vaping experience. There are plenty of disposable vaping devices on the market but here's one that has really caught our eye for one specific feature that we'll soon share.
It's almost as if every disposable vape is the same these days. While their outer appearance may be different and of course, flavors may be different, there is nothing different about how they perform. Yes, some last longer than others and some are even more enjoyable than others but is the experience different? Not so much. That is until you come face to face with the HYPPE Max Flow Disposable Vape. Allow us to take a moment of your time to share what this device is all about and give you a glimpse at our thoughts.
The HYPPE Max Flow Disposable Vape
The HYPPE Max Flow Disposable Vape is a disposable vaping device with a cylindrical shape. It looks a lot like many of the devices you see on the market today, rounded and perfect to house a high-capacity battery and vape juice capacity. The device is fairly compact, yet it boasts enough room to house a 900mAh integrated battery, along with a large 6mL vape juice capacity. These two come together to provide as many as 2000 puffs per device. The HYPPE Bar Max Flow Disposable Vape utilizes a 50mg salt nicotine vape juice that provides a quality, smooth vaping experience, and ultimate satisfaction with each puff.
The most notable part of the device, aside from its delicious selection of flavors, is the bottom airflow control ring, which allows you to truly fine-tune the vaping experience you receive. It is a unique feature that you never see on a disposable. Many companies do not take into account that even though the device is disposable, the users want to still enjoy a performance-driven vape for the time that they are using it. This is made possible due to the ability to change the airflow, which can help provide more or less vapor and intense flavor. Finding your preferred balance between the two makes this device totally worth it. And, we have still yet to talk about the flavors.
HYPPE Max Flow Disposable Vape Flavors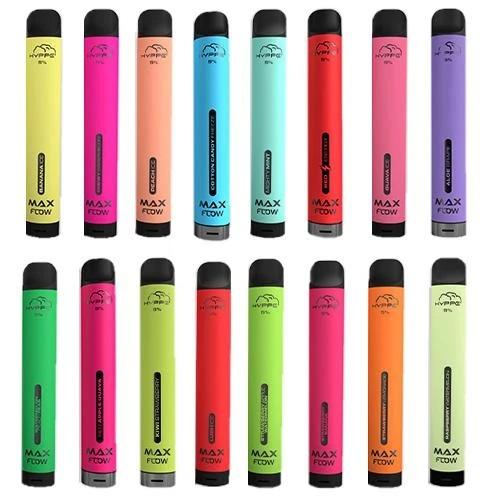 There are thousands of flavors to take advantage of these days, and for the most part, they're all pretty damn delicious. The problem with some is that one brand has some flavors you enjoy and another brand has flavors you enjoy. What if you had a massive selection of flavors from the same disposable vape, which happens to be performance-driven, supplies a large capacity, and is one of the most comfortable to use? This is what you get from the HYPPE Max Flow Disposable Vape. Its flavor selection includes Raspberry Watermelon, Guava Freeze, Chewy Watermelon, Strawberry Apple Watermelon, Watermelon Peach Pear, Lush Freeze, Strawberry Banana, Mighty Mint, Strawberry Lemonade, Peach Freeze, Banana Freeze, Cola Freeze, Guava Pineapple Orange, Guava Strawberry, Kiwi Strawberry, Gummy Teddy, Aloe Grape, Naked, Aloe Orange, Strawberry Freeze, Blue Gummy, Strawberry Gummy, Red Apple Guava, and Red Energy.
Our Thoughts
There is nothing more we could ask for from a disposable vaping device. The HYPPE Max Flow Disposable Vape succeeds at every angle, giving us a long battery life, large vape juice capacity, the satisfaction of 50mg salt nicotine, and a selection of 24 different flavors to choose from. To make it even better, the adjustable airflow control allowed us to customize the vape we receive to perfect the experience. It is devices like this that make us like disposable vapes. If you're wanting to explore even more disposable devices, the Elf Bar VPR Ultra Disposable Vape, Flum Float Disposable Vape, and the Flum Pebble Disposable Vape are all excellent options to consider, as they provide a great experience and many delicious flavors to choose from.