A rather interesting picture created by the FDA has surfaced on Facebook and has sparked a huge response from the vaping community.
Just two days ago (March 18th, 2015) the FDA updated its status on Facebook with an interesting picture that displayed "If nobody smoked, we could prevent 480,000 deaths in the U.S. per year" below an image of a patient being wheeled off in a hospital bed by two nurses.  What's interesting about this picture is that the FDA posted such truth, yet their proposed regulations would lead millions of vapers back to smoking traditional cigarettes.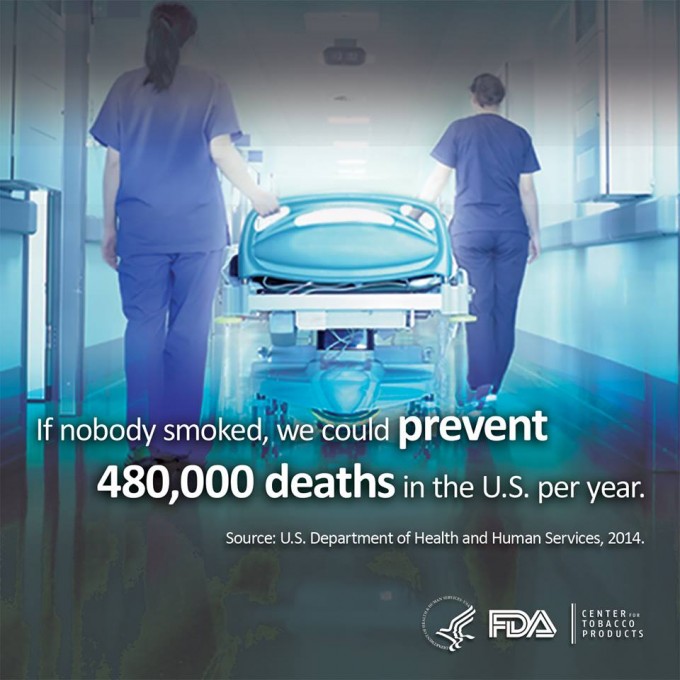 What's even more shocking are the words that the FDA shared in its status update:
5.6 million children alive today in the US will die early from smoking unless we take steps to stop the #tobacco epidemic. Find out what we're doing to reduce the impact of tobacco use in America. #KickButtsDay  Learn more about our Public Education Campaigns here: (link not available)
It's as if the FDA is completely ignoring what has become the largest harm reduction tool this world has ever come to know, they're turning a blind eye to the millions of lives that electronic cigarettes have saved and even leading smokers to a path that obviously hasn't worked for years upon years.  It's almost as if the FDA has become blind to the benefits these devices have served and do not care how the public feels.  Could these hazy eyes the FDA has be a result of them not benefiting from the sell of electronic cigarettes?  Do we really need time to ponder the question?
The vaping community is strong, and as you all know, we make our voice heard in every possible way.  With that said, the picture sparked a huge response from the vaping community, where almost 7,000 comments were made with the hashtag #vapingsavedmylife, more than 2,000 Facebook shares, and a massive amount of Likes for each comment.  We here at GuideToVaping.com feel that this moment, this attention and these comments should be preserved; they're heartfelt and passionate to what these people truly believe.  The comments are made to cause irony, yet an outcry for an industry that has received so many struggles, but continues to progress in the name of the people, despite the Food and Drug Administration's greed and morals.
Update: I've watched the comments throughout the whole night and they continue to come in.  It's amazing what's happening.  Even if it is just Facebook or a single status post, we've come together as a community… and that's huge.
Vaping community, join us as we wipe away the haze over the FDA's eye, stand arm and arm as we become visible, and hashtag #vapingsavedmylife to draw attention to our ongoing cause of life.
Join Us Here: Facebook #vapingsavedmylife Stand