As many are quite aware, Indiana has been held under a huge spotlight in the world of vaping within the past 7 months, and it all stems from a vaping law (House Bill 1432) that was enacted in 2015 and amended last year.  The vaping law in Indiana literally killed the vapor product industry and access to those vapor products for thousands of people within the state.  It all began as an ill-conceived plan that we shared with you 7 months ago, which was intended to create "safety in an unregulated industry," but what came to be was a monopoly for a single security firm within the state.  It resulted in about 200 vape related businesses closing down over night.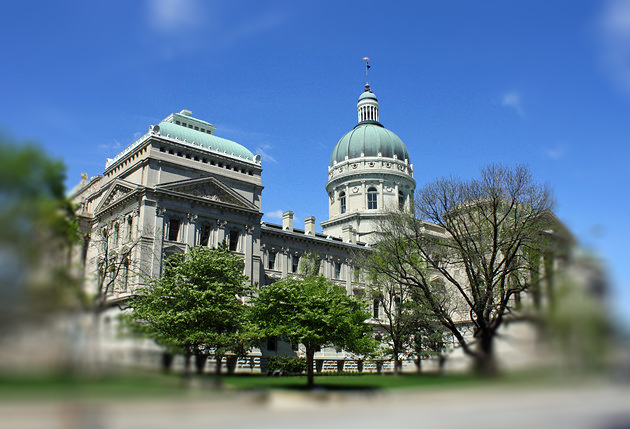 What these laws did was require a security company to have at least one employee who is a certified consultant on architectural hardware, such as locks and door hinges, and one who is a certified technician on rolling steel fire doors.  The law also stated that those employees must have been on staff for at least a year.  What's funny about this situation is that the only company in the United States that meets those requirements happens to be based right in the heart of Indiana.  To make matters even worse and to add to the 'fishyness' that surrounds it all, there is a second stipulation that makes it so that even if other security companies wanted to get in one the action, they would have to wait 12 months.
Moreover, not only did Governor Mike Pence sign over control of the vaping industry within the state of Indiana to a single security firm, he also gave them the right to choose which ever e-liquid providers they want to represent.  It seems as if whatever runs in this security firms favor was a go, but crossing them or not complying to their specific demands would result short of an outright ban on vapor products, placing the industry in a tough and dire situation that could drop the vaping market in Indiana as we know it.
Just 5 months ago we shared that the FBI was exploring the potential corruption in the Indiana vaping law, investigating the possibility of deliberate manipulation of the system to create an insidious monopoly with Mulhaupts Security, right at the center alongside two lawmakers who voted on the bill, both of whom have since gained employment within a section of the industry created by this law.  While that particular aspect of this case seems to have gone publicly quiet, there's been a tremendous amount of work going on behind the scenes to bring fairness back to the vapers of Indiana and businesses around the country who were unceremoniously locked out of the Hoosier State.
Right 2 Be Smoke-Free Fights Back

The Right 2 Be Smoke-Free Coalition, along with Derb E-Cigs, and Legato Vapors made the decision to meet the State's legal representatives toe-to-toe in the court of law.  As businesses were being crushed under the weight of insane regulatory burden, vape industry advocates were constructing a battle plan based entirely on the principles of selling milk across State lines.  Interstate commerce is protected under Federal Law and Indiana's monopoly was unconstitutional from the start — the lawmakers behind it knew, but they tried to slip it through anyway.
In today's decision from the United States Court of Appeals for the 7th Circuit, which overturns an earlier challenge's dismissal, it was made extremely clear that ANY law that tries to supersede almost two centuries of Commerce Clause precedent will fall flat on its face.  While the Indiana is well within its rights to attempt to regulate businesses within its border, it has no authority to attempt extraterritorial enforcement by regulating out of State businesses and commercial transactions.
Hoosier Politicians Beaten By Milk
The appeals court went as far as calling the security requirements laid out in the legislation "astoundingly specific" and noted  "only one company in the entire United States, located not so coincidentally in Indiana, satisfied the criteria" of the law.
The Indiana Act directly regulates the production facilities and processes of out-of-state manufacturers, and wholly out-of-state commercial transactions.  It poses the clear risk of multiple and inconsistent regulations that would unduly burden interstate commerce.
Much of the precedent involved in crushing the unconstitutional law came from the most unlikely sources, involving cases from Waste Management disputes to the manufacturing and distribution of Milk products.
Louisville based attorney Gregory Troutman, who represented Legato Vapors ( LLC) in the lawsuit stated earlier today: "The e-vapor industry is thrilled with today's ruling, and looks forward to working cooperatively with the Indiana Legislature now and in the future in crafting meaningful regulations within the framework of the ruling."
The Next Step In The Indiana Saga
While this is a HUGE win for vapers, there's still a long way to go before we can call it case closed on the Indiana vape-tastrophy.  Dozens of businesses will still be closed and manufacturers within the state will still be subject to draconian rules created by drunken monkeys out of touch politicians, but we are on the precipice of a brand new day.  The Right 2 Be Smoke-Free coalition has won a significant battle in Federal Court, which could create a whole new business environment within the State and potentially help convince those in the Capital, currently working on "fixing" the law, to hurry up and overturn the whole thing.
The best part of turning a spotlight on anything is watching it get hot, but if you put a magnifying glass directly on the subject it is more than likely going to burst into flames.  Had this law passed muster at the Federal level it could have been turned into a road map to destroy the vaping industry state-by-state, but as it happens when they put it under the microscope, it was seen as the toxic piece of legislation it really was.