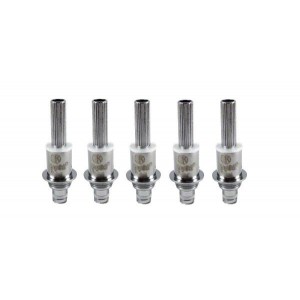 Kanger changes the game with Kanger Sub-Ohm Clearomizers Coils. These coils allow average vapers to dive into sub-ohm vaping, without the hassle of building coils or using a rebuildable atomizer.
For years now there has been a divide within the industry, separating one portion of vapers from the others because of the attachment used on their personal vaporizer. On one side there are advanced vapers that use clearomizers, which require little very little maintenance. Clearomizers are great, but many feel the urge to use rebuildable atomizers instead for improved performance. The other portion of vapers are the ones who like to push the boundaries and sacrifice the additional maintenance with rebuildable atomizers; many directed towards sub-ohm vaping.
With this new Kanger product, that seperation will no longer be, and will close a gap, allowing more improved experiences to be gained while also opening a side of vaping to those who were too learly to experiment or reach the rebuildable or sub-ohm world of vaping. Though this product doesn't offer the same experience one could get from actually using a rebuildable atomizer, it's definitely the closest, most user-friendly, and lowest maintenance alternative.
Starting out, the replacement coils are down to 0.8 ohm, which is sub-ohm territory. Though the build isn't as low as what many RBA users reach, it's definitely on the right track to offer vapers quite the experience from a clearomizer. Trust me when I say this – these Kanger coils will completely change the way vapers look at clearomizers.
Here's the good news, you won't have to purchase a new clearomizer to use these replacement coil heads. If you already own any of the following clearomizers, these sub-ohm coils are compatible.
Kanger Sub-Ohm Replacement Head/Coils Will Fit:
Protank 3
Mini Protank 3
Aerotank
Aerotank Mega
Aerotank Mini
Evod 2 Clearomizer
T3D
Evod Glass
What Will You Get?
For $12.99 plus FREE Shipping, you'll receive a 5-Pack of Authentic Kanger Premium (SUB OHM) Bottom Dual Coil Replacement Heads. Most regulated devices will not read these sub ohm coils. These coils work best with mechanical mods.
Where To Get Them?
GET IT HERE with FREE shipping!
---