This is a complete guide to the iJoy RDTA Box Mini, acting as an instruction manual and user manual with everything you need to know about the RDTA Box Mini Mod. In this guide we're going to share a massive amount of information on this device so that you know all about its features, specifications, various tips, and we'll tell you how to operate it. With this guide we plan to tell you enough so that you know all about this mod and how to use it from the very moment you strip its packaging. As a courtesy for our hard work and research that's went into this guide, we ask that you share this complete guide to the iJoy RDTA Box Mini with your friends so that they have the opportunity to learn about this awesome device as well.
If you haven't already bought the iJoy RDTA Box Mini Mod and plan to picking one up for yourself, we would really appreciate it if you clicked the button below when ordering the RDTA Box Mini. By clicking the button and ordering from the affiliate store we recommend, we earn a very small commission. This small commission will give us the ability to continue writing articles just like this one. We thank you for your continued support!
---
GET THE iJOY RDTA BOX MINI MOD HERE
---
About The iJoy RDTA Box Mini
Gifted with nice curves, clean lines, and a new approach to one of the most unique all-in-one mods to ever exist, the RDTA Box Mini is set to become a favorite amongst many vapers. It's the miniaturized version of its older brother, the original iJoy RDTA Box. If you're looking for a mod that has an all-in-one design, boasts a built-in RDTA platform, features a small footprint, and performs exceptionally well, then you're going to have a blast with the RDTA Box Mini by iJoy!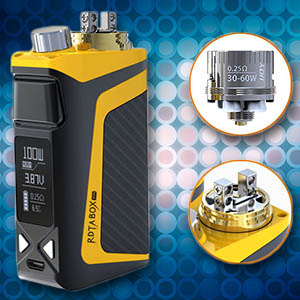 The all new RDTA Box Mini by iJoy stands just 100mm tall, 45mm in width, and a mere 25mm in depth.  Like its older brother, the RDTA Box Mini also boasts an all-in-one design, combining the an RDTA platform with a redesigned miniature version of the RDTA Box, which has been dubbed the RDTA Box Mini. As for the RDTA itself, it uses an interchangeable build deck design, taking advantage of the RBM Deck that offers a two-post, dual terminal design. Like the original, the mini also includes an RDTA coil head that can be used, which is the RBM-C2 0.2Ω coil head that's rated for 30W to 60W.  In addition, the RDTA portion of the device features a delrin wide bore drip tip and adjustable dual horizontal slotted airflow, which is controlled via a knurled top cap. What's most impressive about this whole top setup is that users can remove the RDTA and install any separate 510 atomizer to treat it as a stand-alone box mod.
Just the side of the RDTA portion of the device, there is a wide fill port for top fill capabilities, just like what was available on the original RDTA Box. However, the mini version has a smaller port and it has been angled slightly to make filling easier and to further separate it from the RDTA. Just underneath there is a 6mL tank reservoir that can be removed for easier cleaning and can be replaced with a 2mL capacity reservoir. Keep in mind that the 2mL tank is not included in the packaging and must be purchased separately. Continuing on the topic of its tank, there is a triangular cutout on the side of the device to view the current state of the tank, be it the cleanliness or to indicate the amount of e-liquid in the tank. There's also a build-in LED light that illuminates once the fire button is pressed, but as an option can be turned off completely.
The overall design of this mod looks very appealing, sporting several colorways, a carbon fiber inlay, and ventilation that ties in with the theme. The RDTA Box Mini has a 3 button configuration, which includes an over-sized firing button and two unique adjustment buttons. Between the buttons rests an OLED display that features a vertical stack. Just below the control face and sitting on the bottom of the device is a micro-USB port used for future firmware upgrades and charging. Inside of the RDTA Box Mini Mod there is an integrated 2600mAh Li-Po battery that supplies the power.
Its chipset is designed by Iwepal and allows for up to 100 watts of vaping power, it has a 0.05Ω minimum resistance, and offers a full temperature control suite so that you can take advantage of Ni200 Nickel, Titanium, and Stainless Steel while ranging from 200 to 600 degrees.  There is also a TCR mode and a unique custom user mode that allows users to change a strength setting.