For those that are familiar with the ever-changing trends on the market when it comes to vaping devices, you'll know today's new mod will be old news in just a week's time. This is why it is very important for manufacturers to set itself apart from others by developing well-thought-out devices that truly serve a purpose other than just vaporizing e-liquid. This is why GeekVape and its Aegis Series has done so well. They've created a collection of mods that not only perform very well, along with the industry's latest technology, but it is built with great durability to withstand even the toughest conditions. People want a device that will do three things: work, perform well, and last a lifetime. That is exactly what you get from the Aegis Series and the new GeekVape Aegis Solo Kit.
The Aegis Solo Kit by GeekVape offers a lot, and it does so at every angle. When it comes to looks, it outshines others, its size is comfortable, it works flawlessly, performs extremely well, and it's built with durable materials to ensure it lasts a lifetime. If these are traits that you look for in a device, allow us to share more information by reading this GeekVape Aegis Solo Kit Preview.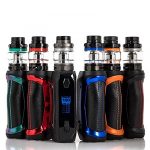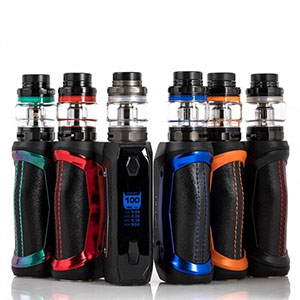 Standing a mere 86.4mm by 41.2mm by 31.5mm, the GeekVape Aegis Solo is remarkably compact. It is designed to be small and compact, yet deliver outstanding performance and stunning durability. It looks phenomenal when it comes to the appearance department, utilizing a leather inlay with colored stitching to match a Black, Gunmetal, Red, Orange, Blue, or Green bezel that is traditional to the Aegis Series. The device is totally constructed of zinc-aluminum alloy, along with SLI silicone, making this device IP67 dust and water-resistant, giving it military-grade shock resistance, and making it able to withstand submersion in water for up to 30 minutes at a depth not exceeding 1 meter. Yea, it's one hell of a device!
While compact, the device is capable of housing a single high-amp 18650 battery that can be recharged within the device via an equipped micro-USB port. With its battery capacity and an integrated AS-100 Chipset, the Aegis Solo can dish out a range of 5-100W in vaping power, and also features a full temperature control suite, a power mode, VPC mode, TCR mode, and bypass mode that will allow you to charge and vape at the same time. A full protection suite is in place as well to ensure that both you and the device, along with its many features, are protected at all times. Expect 10-second cut-off protection, short-circuit protection, over-charging and discharging protection, over-heat protection, over-current protection, and anti-dry protection.
Since this device will come as a kit, you have the joy of using the GeekVape Cerberus Sub-Ohm Tank, an e-liquid tank that has gained incredible popularity due to its amazing performance offering. It features a stunning design and has a large 25mm size, which accompanies a 5.5ML bubble glass e-liquid capacity. It's constructed of superior stainless steel material and the glass is made of a pyrex material. The Cerberus Tank gas a detachable structure and begins performing well due to the dual slotted adjustable bottom airflow control. Filling the tank is easier than ever with its threaded top-fill design, making it less of a hassle for those times when a refill is needed. Where the Cerberus Tank gets the grunt of its performance from is the Super Mesh Coil System, which consists of the 0.2-ohm Super Mesh X1 Coil that is capable of supporting 60-80W. The Cerberus Tank is also compatible with SMOK TFV8 Baby Coils as well.