With the Delta-8 THC scene currently booming, big brands and manufacturers are starting to release the best that they have to offer for the market. Delta Effex is the first to release a device made and designed specifically for Delta-8 THC.
In this addition to our famed guides category, we're sharing a guide to the Delta Effex Delta 8 Vape Pod, the brand's latest release that we're sure will receive a lot of attention. The device has been custom-designed, perfectly crafted, and built perfectly to experience all that Delta Effex has to offer. With that said, be sure to read up on it and learn everything you can before placing your order to ensure you are yet another informed buyer.
The Delta Effex Delta 8 Vape Pod
Standing 91.6mm tall, 22.3mm wide, and 12mm in depth, the Delta Effex Delta 8 Vape Pod is definitely considered a compact device. Its small size allows for incredible portability, allowing you to easily stow the device away in your pocket or handbag with ease.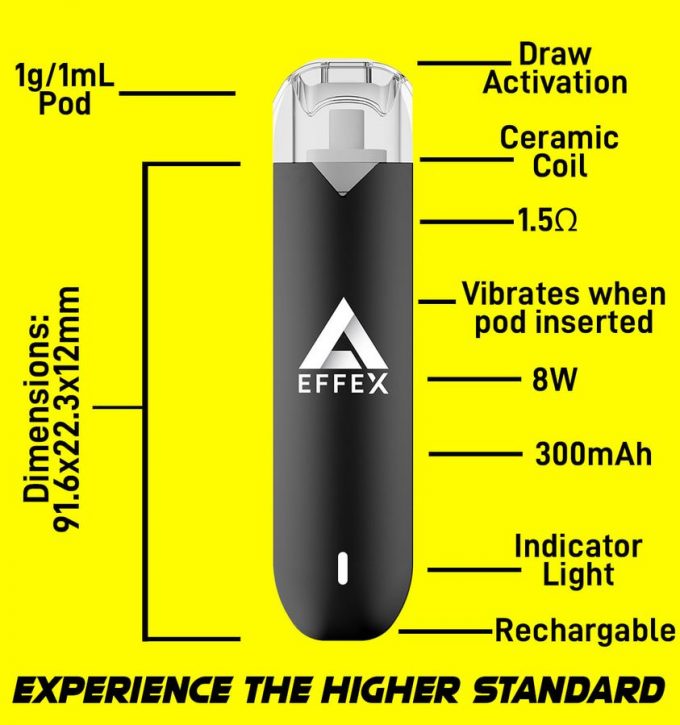 It features a black rubberized coating, a small size, and a thin waistline, along with a sleek design and curved edges that make the device visually appealing. The device utilizes durable quality materials to ensure that it remains sound throughout your time using it. With a two-piece design, consisting of the My Effex device and the My Effex Pod, you will find that the design of this device is extremely simplified. Delivering exceptional performance, the device also features 8W output power.
The Delta Effex Delta 8 Vape Pod comes with an integrated 300mAh rechargeable battery. The device also comes with a micro-USB charging port, an LED indicator light, and a built-in vibration feature that is used to alert the user during pod installation and indicate when the battery requires a recharge. To provide an exceptional level of convenience, the Delta 8 Vape Pod boasts an automatic firing mechanism, which allows for auto-draw activation.
The Delta Effex Delta 8 Replacement Pod has a 1mL capacity and comes pre-filled with 1-gram of Delta Effex Delta-8 THC distillate and strain-specific terpenes. It comes with an integrated coil that has a 1.5-ohm resistance. The pod features an ergonomic mouthpiece that delivers a comfortable vaping experience, and due to the cutout on the device, you will be able to view the current oil level at all times.
Available Product Options
There is one Delta Effex Delta 8 Vape Pod, otherwise known as the My Effex Starter Kit, and two My Effex Replacement Pod options, which includes the Sunset Sherbet Indica Delta-8 Pod and the Blue Train Wreck Hybrid Delta-8 Pod.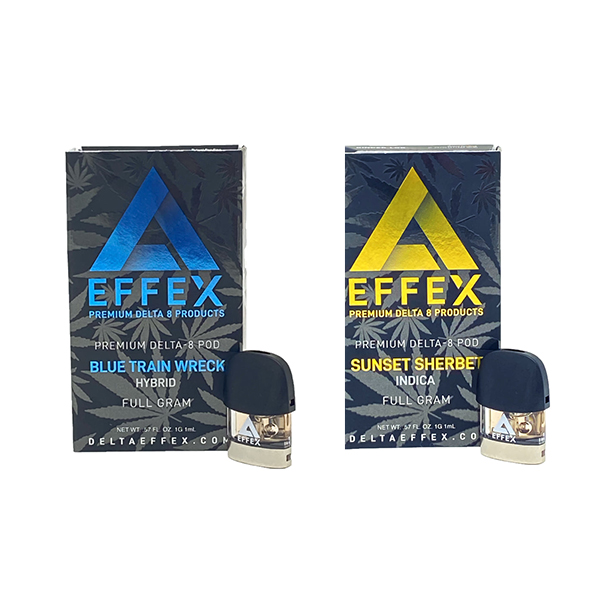 My Effex Starter Kit by Delta Effex (only sold while purchasing replacement pods)
My Effex Sunset Sherbet Delta-8 Pod by Delta Effex
My Effex Blue Train Wreck Delta-8 Pod by Delta Effex
How To Use The Delta Effex Delta 8 Vape Pod
Begin by charging the "My Effex" device completely before use. You can charge the device by inserting a micro-USB charging cord (not included) into the charging port, which is positioned at the bottom of the vape pod.
Then, you can now insert the "My Effex Pod" (sold separately) into the device and wait for the alert status, which involves vibration and an LED indicator light.
Next, the device will vibrate and a LED light positioned at the bottom will display white, indicating that you have inserted the pod correctly and it is making a proper connection to begin using the device.
Lastly, inhale from the "My Effex Pod" mouthpiece and the device will automatically activate.
Delta Effex Delta 8 Vape Pod Operation
Battery Indicator: When the battery is completely dead, the device will not fire, and instead will vibrate. When the battery is low, the indicator light will display a red color. When the battery is fully charged, the indicator light will display a white color.
Pod Indicator: When the pod is installed correctly with a proper connection, the device will vibrate and display a white color on its indicator light.
Built-In Protection: When you reach the maximum inhalation timer of 10-seconds, the device will vibrate and completely shut off to ensure that you and the device are protected with its built-in 10s cut-off protection. To prevent a short-circuit from occurring, the device will automatically shut down and will not vibrate or display an indicator light color.