Throughout the four years that I've devoted my time, energy and more-so my life to the electronic cigarette industry, I've never asked for recognition.  The "Guide To vaping's Best of" annual events were made to give others recognition and praise those who have went above and beyond within the vaping community, so I've spent a better part of my vaping career thinking of others instead of myself.  This was brought on by the way I was raised, and I learned a lot about being selfless with my first child.  It's about showing others that you appreciate the work "they've" done, and I've always believed that one day I will have my turn and receive recognition for what I've done.
Yesterday marks that day…  Not only was I, Blake Brown, nominated in Vapor Digest's "Vaping Hall of Fame", but I made it to a real print magazine being interviewed by Patrick V* of Vapor Digest Magazine/Vapor Lives Magazine.  In addition, my interview was placed a long side of some of the community's all time greats, such as Dimitris Agrafiotis, Phil Busardo, Lance Wallen and Nick Green.  Though I may not necessarily be on the level of some of these great people, it definitely feels good and an honor to be listed in the same category as them.  I am very thankful to be recognized in such a manner and honored.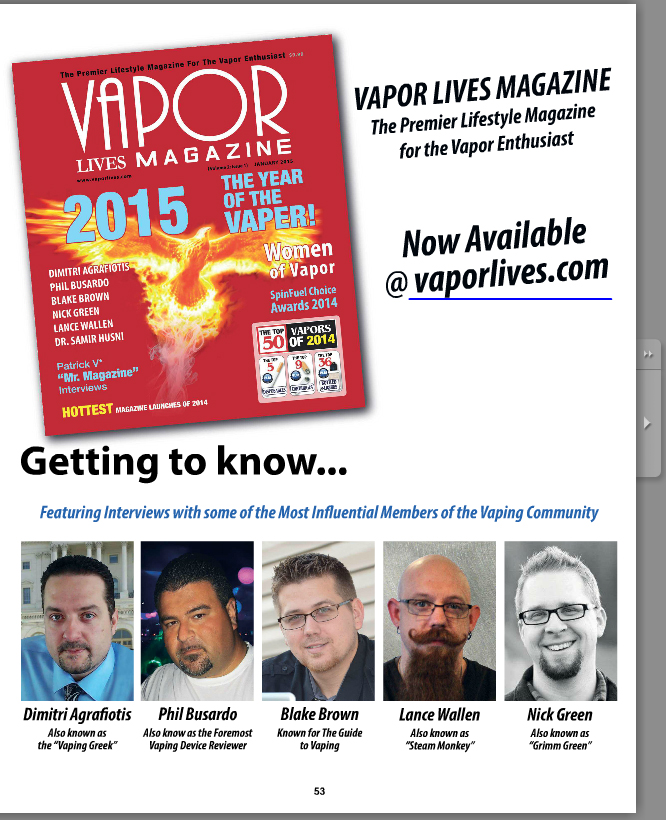 The interview was published in Vapor Lives Magazine, which is a real print magazine that you can subscribe to and receive a copy to your doorstep with each new issue.  If you would like to read the interview of myself, you can visit the online version and go to Vapor Lives Magazine and turn to Page 09.