Our regulated vape mods are powered by chipsets, and with each additional entry comes a new chipset with more advanced technology.  The thing about these chipsets is that the manufacturers are making them, but the users have yet to really explore them, until recently.  In this article we're going to tell you how to hack the widely popular Wismec Reuleaux RX200S Mod, we'll tell you how hacking could play a vital role in our experience with these mods, and we're also going to share some mods that were ahead of their time.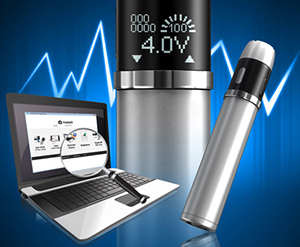 The technology in these chipsets have yet to be explored to their full potential.  The majority of users over the years, even though they've represented a do-it-yourself persona, seem to be content with what's offered in the chipsets.  This "being content" attitude comes as no surprise since in the past manufacturers have released mods with chipsets that offered a step-up in technology and features that allowed the user to gain more control over their vape, which wasn't so successful.  For an example, the Joyetech eVic was the first to offer a more advanced step towards greater user control, then soon after came the Janty MiD One.  The eVic did well as a regulated device, but its feature to allow advanced user control didn't quite catch on.  The MiD One was released shortly after, giving the user even more control, but lacked the user-friendly feel.  It's our conclusion that these device were simply too far ahead of their time, especially at such an early time where even temperature control didn't exist.
There are some users out there that do want to dive further into the chipsets that manufacturers offer, just at a time when vapers are in a more advanced place.  Many vapers now are starting off with devices that have temperature control features, which is some of the latest technology introduced, whereas just two years ago a lot of them were starting off with simple devices that lacked any features at all.  Due to this spike in vapers that now feel as if they're experts in the matter, there have been some manufacturers starting to rethink that idea of greater user control.  The first to touch base on the matter was Evol Vapor, where they released the DNA 200 Chipset.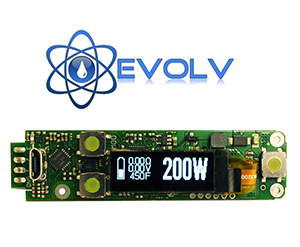 The DNA 200 offered far greater user control than any other chipset to date, allowing the user to change and monitor nearly every aspect of the device.  Because of this and the timing that it was introduced seemed to be precise, the DNA 200 has become one of the most advanced, most wanted, and best performing chipsets on the vaping market.
The DNA 200 is the perfect chip, but not every device has it equipped due to its premium price.  With that being said, what do users do if they want to gain more control over their device that doesn't have a DNA chipset?  That's a good question!  Some vapers have began taking things into their own hands by reverse engineering the code in the chipsets that comes equipped with the ability to upgrade its firmware.  Being that these chips hook directly to a personal computer and can sync data back and forward, users like NotTwisternick from Reddit have dove face first into devices like the RX200 and RX200S.  These users are replacing fonts for numbers and letters, digging deep into its firmware with python, and fumbling around with the hex plugin for notepad++ until they find something that they can really affect.  You wouldn't believe it, but some of these users are spending days exploring these chipsets just to simply customize their experience.  NotTwisternick has shared some of what he's done, but warns that you risk bricking your device.  In case that happens, we have a tutorial here telling you how to fix the RX200 (will work for the RX200S also).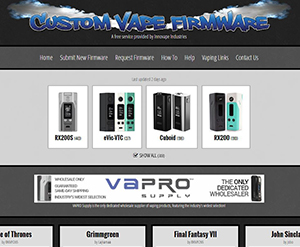 If going to the extreme and playing with code isn't your type of thing, there are new websites that have emerged lately, where they simplify the process and offer free themes that you can download for your device.  These themes change the fonts, adds cool little images, and overall gives you another way to enjoy your mod even more, which we feel is something vital to your vaping experience.  There's nothing like truly enjoying your device and satisfied completely with vaping.  One of those websites is Custom Vape Firmware; they offer theme downloads for the RX200, RX200S, Cuboid, and eVic-VTC.
The truth is, hacking the RX200S Mod would be great as we feel there are still parts left to be explored, but with websites like Custom Vape Firmware and others that are beginning to sprout up, we can sit back, leave it to the professionals, and wait for the next custom theme or technological breakthrough to be available for us to download.  We suspect that in the future chipsets will offer far greater user control and new technology for vapers to explore even more.