For those of you who aren't in touch with the latest vape products, Aspire has recently announced the Atlantis Tank. And, it's creating quite the buzz in the world of vaping.
The Aspire Atlantis is a clearomizer that was designed for Sub-Ohm vaping. The coil head that this tank uses reads at a low 0.5Ω, making it the lowest resistance coil offered from a manufacturer yet. This is truly a first for this industry, and year's later you'll definitely remember these days. I've got a strong feeling this is the direction that clearomizers will be headed in for 2015 – possibly even going lower in resistance.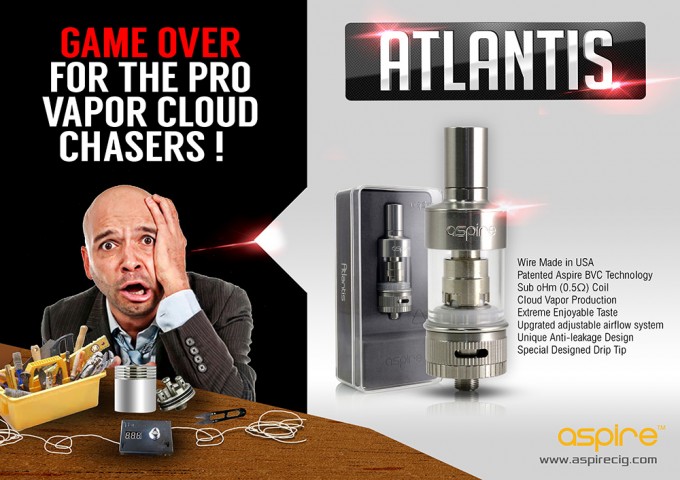 Aspire's Atlantis has raised the bar to new heights. This next generation tank system brings improved adjustable airflow and Sub Ohm coils that provides performance similar to even the best rebuildable atomizer. By enhancing Aspire's Bottom Vertical Coil design Vapers will experience better taste and vapor production. Aspire's Atlantis Tank design is easy to carry, install, and refill
The Features
Wide Bore Drip Tip
Stainless Steel Body
Pyrex Glass Tank
Sub-Ohm Coil 0.5Ω
Adjustable Airflow
Since this device was announced I've been waiting to get my hands on it. I believe it will definitely be a game changer. Although the coil is said to be suited best for 20 to 30 watts, there's a YouTube video out now of someone pushing 45 watts without any wicking issues. I ordered an Atlantis tonight and will have a review on it sometime next week showing off clouds.
GET THE ASPIRE ATLANTIS HERE!