If you are a lot like myself and haven't visited the head slinging hardcore metal genre of music during your existence, you've probably never heard of GWAR – a thrash metal (subgenre of heavy metal music) band composed and operated by artists and musicians of Slave Pit Inc., which is an independent record label and production company. GWAR was formed in Richmond, Virginia back in 1984, and quickly became a hit through its elaborate science fiction-themed mythology which portrays the band members as barbaric interplanetary warriors.
Indeed, very wicked, but very cool I must say.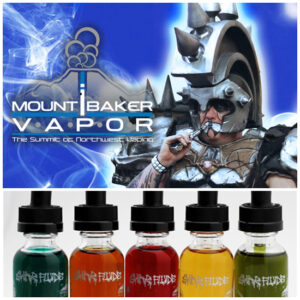 Through its concerts, airtime on MTV in the early 90's, and appearances on several talk shows, GWAR became quite the hit for that genre of music, but seen a decline by the end of the 1990's. Fortunately, for the band, the grueling costumes and themed albums captured a following that still praises their loud mythical music today. With that said, and the vaping cultures quickly risen product selections, manufacturers are looking for anything to market their latest creations. To reach the adult audience and lead them toward products, companies like Shroudz and Mt Baker Vapor are partnering up with the once hit band for GWAR themed products.
Shroudz partnered up with GWAR to create GWAR-themed wraps, which is a vinyl adhesive that will wrap around Innokin Technology's iTaste Vaporizer. One of the largest and community driven e-liquid manufacturers, Mt Baker Vapor, has also teamed up with GWAR for its latest line of specialty flavors. The GWAR line of e-liquid that's known as "GWAR Fluid" are GWAR approved flavors offering themed names, such as GwaRy4, Bloodbath, Spew and Jizmogoblin.
Though the GWAR themed products are still very new to the vaping market, they've already become quite the hit for those long time GWAR fans and even those who just want to taste just a little Bloodbath every once in a while.
You can get your GWAR Fluids HERE.