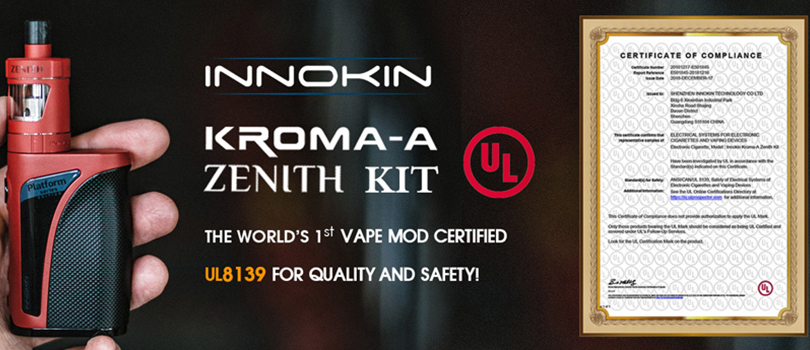 For those that have nestled themselves in the world of vapor products, chances are you've heard of the Innokin name. It's a brand that has a long history of serving vaping consumers, and still to this day remains one of the industry's leading manufacturing brands. It recently announced that its Innokin Kroma-A Zenith Kit is the world's first mod with a UL Labs certification for top quality manufacturing and safety excellence.
Many probably aren't aware, but UL Labs is the world's leader in setting manufacturing and safety standards, and the UL8139 certification, which is the certification the Kroma-A Zenith Kit received, is the first international standard for vaporizers. UL Labs has the capability of doing a lot for manufacturers of vapor products, such as helping companies demonstrate safety, confirm compliance, enhance sustainability, manage transparency, deliver quality and performance, strengthen security, protect brand reputation, build workplace excellence, and advance societal wellbeing.
Up to this point, Innokin has worked closely with UL Labs to develop the high standards of the UL 8139 certifications. To make good on this relationship, Innokin's engineering and marketing teams have provided UL Labs with key information about their vaporizer designs, manufacturing, quality control, usage and safety testing, and it was all done to provide a better product for consumers and achieve the UL 8139 standard to better ensure consumers of its quality.
Through our work with UL Labs, Innokin vaporizers are manufactured with higher production standards to deliver better, safer experiences that enable smarter choices and better lives. – Innokin
The Innokin Kroma-A Zenith Kit provides an internal battery that delivers quick charge technology and comes paired with the Zenith MTL Tank, providing a superior mouth-to-lung (MTL) experience. You can see the Kroma-A Zenith Kit with UL 8139 certification here.