Good news AeroTank fans, there's a much larger and performance packed version of the AeroTank now available, the AeroTank-Turbo. The AeroTank has become huge for Kanger, and as a result they've continuously improved it with different versions of the same clearomizer. We have the original Kanger AeroTank, the AeroTank Mini, the Kanger AeroTank V2 (improved upon), the Kanger AeroTank-Mega, KangerAeroTank-Giant, and now the Kanger AeroTank-Turbo.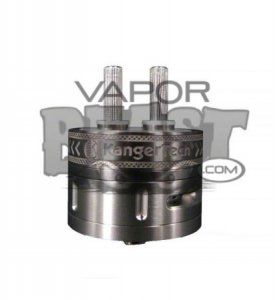 Though the Giant gave us a large 4.5ml capacity, the AeroTank Turbo goes above and beyond that with a whopping 6ml e-liquid capacity!  But, that isn't all. The AeroTank Turbo holds not only 1 dual coil atomizer head, it holds 2, making it the first quad-coil clearomizer on the market. In Addition, the Turbo has other notable features including a large adjustable air valve, SUS304 grade steel, a replaceable pyrex glass tank, an adjustable battery connector, and it's approximately 30mm x 78mm in circumference.
Impressed? YES!
It seems as if every time Kanger produces a clearomizer, there is a long series to follow. There's no doubt that Kanger knows what they're doing when it comes to clearomizers, but could they be taking it a bit too far with a quad-coil? – I'm personally not sure at this moment, but I'm definitely looking forward to finding out!
Get the AeroTank-Turbo here: Kanger AeroTank-Turbo Quad-Coil Clearomizer