Headlines are believing that this new "Nicotine Inhaler," which is to be sold by a unit of British American Tobacco, is the new alternative to electronic cigarettes. Implying that this vapor-less device could trample the huge market of e-cigarettes? – I'm not too sure I'm sold on this.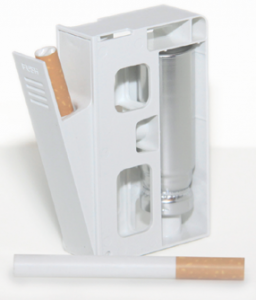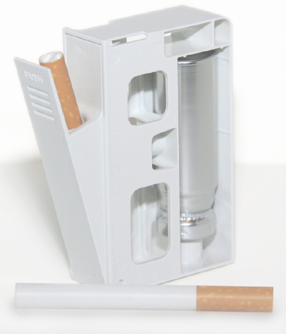 The Nicotine Inhaler has been licensed in the UK as a medicinal product, which will create less hype than what an electronic cigarette does, but will be along side in that same market of those looking for an alternative to traditional cigarettes. The Voke Nicotine Inhaler looks much like a traditional cigarette, but isn't being classified as an electronic cigarette since it involves no heat, no electronics or battery.
The Kind Consumer Inhaler system is a non-electronic nicotine delivery platform that delivers an aerosol of nicotine formulation from the stick via a breath-operated valve for oral inhalation. The valve has been designed to actuate at low inhalation flow rates similar to those of cigarette smoking. The inhaler contains no tobacco and does not involve combustion, electronics or heat of any nature in its operation.  The inhaler comprises two parts; a pressurized aluminum canister containing the HFA-based nicotine formulation housed within a simple plastic pack, and a removable stick, which is also housed in the pack. The stick is the same shape and size as a conventional cigarette.


According to Kind Consumer, which is who the Voke product was developed by, the next step will be to submit a variation to the license granted by the Medicines and Healthcare products Regulatory Agency (MHRA) to support full-scale commercialization by BAT's nicotine substitute division, Nicoventures.
The additional licence was needed to achieve automated manufacture and the further regulatory step is likely to take some months. – Kevin Bridgman, Nicoventures Chief Medical Officer
Bridgman also included that he believes the new device will suit many people who want to quit smoking but are still wary about e-cigarettes.
Though I applaud the increased development of alternatives to tobacco cigarettes, I do not think a nicotine inhaler will make even a dent in the electronic cigarette market. The fact is, e-cigarettes have gained so much hype and have created such a boom because they offer many of the characteristics found in traditional cigarettes, like the exhaling "cloud-like" plumes, and not to mention the astronomical amount of e-liquid flavors. The vapor itself has created its own culture and following, and I'm very doubtful that most vapers will ever give that up, and to be quite honest, I doubt smokers who look to switch in the future will be up for it either.
British American Tobacco are wishful that the Voke Nicotine Inhaler will compete with both electronic cigarettes and nicotine-replacement therapies, such as Johnson & Johnson's already established Nicorette Inhaler, among other replacements including gum and patches.