As it attempts to get as many products into the market before the August 8th FDA deadline, Kangertech have just announced the release of yet another starter kit in the Subox line.  Going by the name of the Subox Mini-C Kit, this is the latest addition to the highly successful K-box Family of starter kits that have had Kanger at the top of the vaping game for the last 2 years.
For anyone wondering why this and so many other companies seem to be flooding the market with new devices, remember that August 8th 2016 is the last day that any product that hasn't gone through an extremely expensive, and probably futile, FDA Pre-Market Tobacco Application can be released.  These companies are doing everything possible to make sure that, for the next 2 years at least, vapers will still have some semblance of choice.
Kanger Subox Mini-C Kit
Following directly in the footsteps of the K-box mini, the K-Box Mini-C packs a decent punch for vapers looking to get into adjustable wattage and temperature control.  With an output of 7 watts through to 50 watts, this single 18650 device may not be the most powerful on the market, but this line keeps selling because it is a range and product that many people want.  Taking advantage of a single 18650 high-drain battery (sold separately), this set-up will provide hours of sub-ohm vaping on a single charge.  With highly sensitive and accurate temperature control settings, the K-Box mini will support any 510 connected tank system but works perfectly with the Protank 5 that comes in the kit.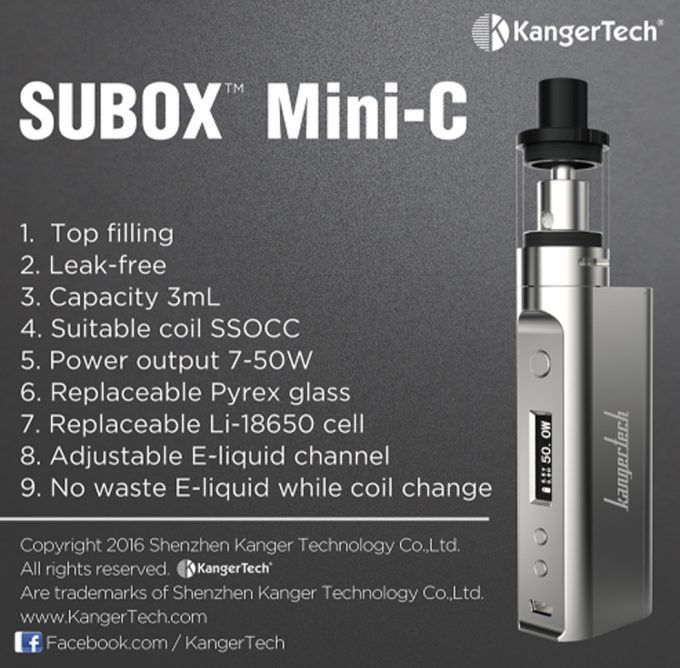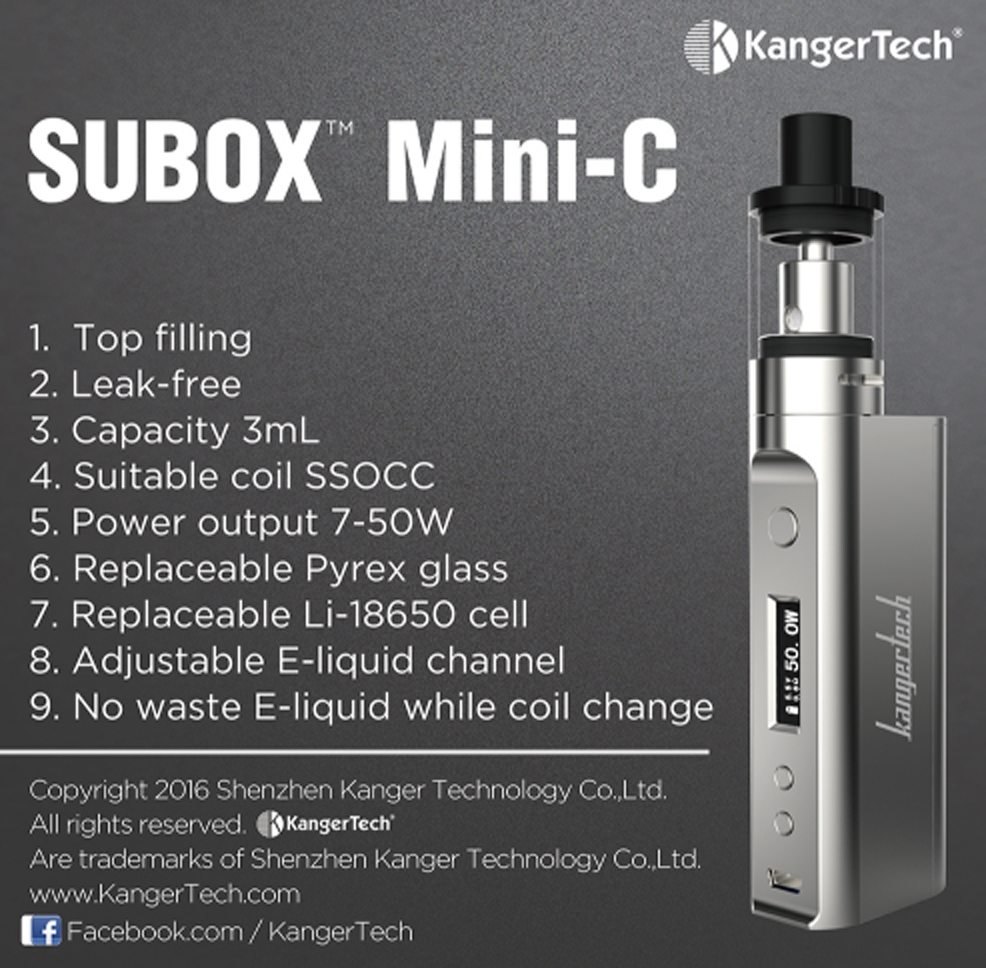 Following other tanks recently released by Kanger extremely closely in function and design, this tank brings some amazing features to the table.  The top filling, leak-free system that has become extremely popular over recent months has been adapted in this tank. With adjustable airflow and adjustable juice control, Kanger have created a system that can be perfectly adjusted to a users personal preferences and provided a coil selection to match.  Using the extremely popular SSOCC coils there should be vapers should be able to take full advantage of this systems capability whether they choose wattage or temperature control.
Holding 3ml of your favorite e-liquid, designed to be hard working, rugged and versatile the Subox Mini C-Kit could prove to a versatile piece of hardware in any vapers tool box.