Follow along with this Kanger SubTank Mini Review or watch the video where I unbox the SubTank Mini, review it and show you how to install your first coil on the RBA deck.  In this review I am accompanying my SubTank Mini with my quite appealing VaporShark rDNA30.
If you are interested in purchasing the Kanger SubTank Mini, you can get it at www.VaporAuthority.com.
Appearance
The Kanger SubTank Mini looks almost flawless in design.  Everything about this tank looks great, from its bottom base that has lines etched into it for a more rugged look, to its wide bore drip tip that towers it.  There is honestly nothing to complain about, except for those bold red o-rings that wear on you pretty quickly.  Though it looks great in any way, I was thrilled to find out and purchase Kanger's new "Colourful Silicone Seal Ring Set", which spiced up the appearance and gave it an even more appealing look.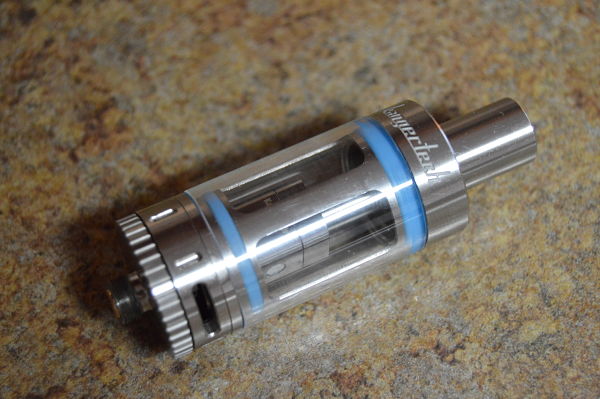 The SubTank Mini is made of 304 stainless steel, its tank portion is made of pyrex glass, and only stands 2.12 inches tall, while only being 0.87 inches in diameter.  The hybrid clearomizers come apart in 4 different pieces (not including the coil): the drip tip, the body, the pyrex glass tank and its bottom base.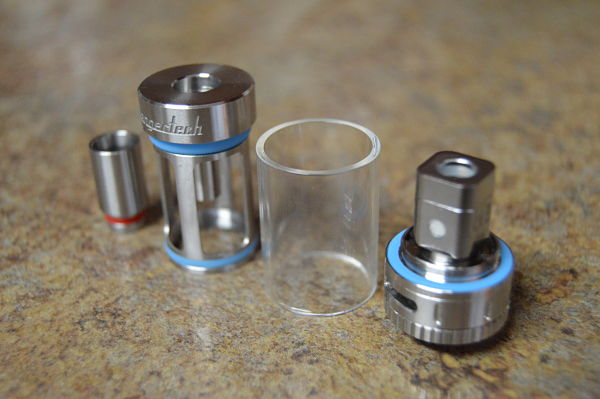 Features
The SubTank Mini excels beyond other clearomizers because of its features… in fact, the SubTank was the first clearomizer to offer a rebuildable atomizer deck, which not only allows you to use it as you would any other clearomizer, but also allows you to rebuild your own coils and continue to use it.  On top of that, the OCC (Organic Cotton Coil) coil that comes pre-installed, is Sub-Ohm at 0.5Ω, as well as coming with a 1.2Ω coil if you want a higher resistance vape.  If that doesn't tickle your fancy, it has adjustable airflow, which is quite pleasing to say the least.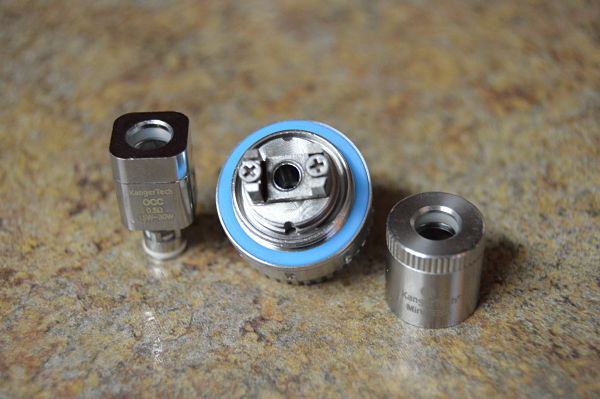 Performance
If you're looking for a solid vape, expect big clouds or even little clouds, and enjoy flavor, then the SubTank Mini is where it's at.  Since I received the SubTank Mini from Vapor Authority, I've been nothing short of pleased with the way this clearomizer performs, with both its OCC replacement coils and its RBA deck.  If at anytime I want to go lower than its provided 0.5Ω coil or run out of OCC coils, I can simply pop in the RBA deck, easily install a new coil, and get back to vaping without hassle… and saving myself a little bit of money too.
I'm getting a great performance from these OCC coils, and I feel they're amazing at 25 watts, however, at its maximum wattage it's rated for, I feel like it's just a bit too hot and can not wick quick enough.  That said, at 25 watts, and frequent pulls, I never receive a dry hit.