A recent electronic cigarette user study by Dr. Robert L Cranfield M.D. (a family medicine specialist from Tennessee), shows long-term health benefits to the users of vaping devices.  While millions of people are using these products daily, and the British Government has sanctioned their use for people attempting to quit smoking, many in the American public health arena still question their long-term effects on the human body.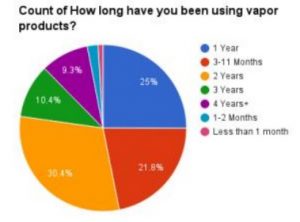 During the 6 month study, between March and August of 2015, the good doctor's research has provided a great deal of data that will surprise some while simultaneously backing up the claims that have been made about Electronic Nicotine Delivery Systems for almost a decade.
While the survey only focused on a small portion of the vaping community, 573 respondents in the south-eastern United States, via anonymous online questionnaires or in person paper forms, the researcher focused on a specific subset within the group.
The purpose of the study was broken into 4 simple to understand and easy to define parts:
To identify those people who have 3 or more years of vaping experience, and see how their health has been affected by changing to e-cigarettes. While it might take longer than this to see some of the potential adverse health effects, it is extremely difficult to get many people who have been using e-cigarettes longer simply because of the limited time they have been available.
To look at those smokers who had no known health effects while smoking, and see what, if any, adverse health effects developed subsequent to starting to use e-cigarettes.
To see if those who never smoked before vaping were more likely to develop adverse health consequences as a result of vaping.
To measure demographics of e-cigarette users.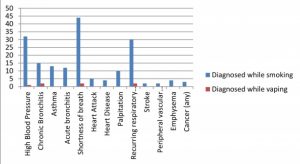 The results of the study showed a 96% reduction in adverse health problems by users who had been using the devices for in excess of 3 years.  Conditions such as high blood pressure, recurring respiratory illness and asthma showed significant improvement since switching to vaping and in many cases were shown to have been resolved since quitting cigarettes.
The study also showed that, at least in this group of respondents, there was a minimum 52% success rate within those that used the devices to quit smoking at 3 years or more, compared with the average of 7-8% at the six month mark for those using over the counter methods recommended by the public health community.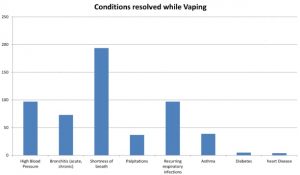 We have only skimmed some of the facts from the study here but I urge you to take a few minutes to read through the study in detail and also pass it on to those who are stuck in the mindset that vaping causes as many problems as smoking.
The full study can be found right here.
While other studies have been released and decried, talking about the alleged effects of these devices on the human airways in a laboratory setting, this is the first in-depth look taken at the real world implications of this technology, being used as it was intended.  If these results are shown to be as true in other places are they have been here, this could be a game changer not only for the vaping industry and its advocates but also for the 45,000,000 smokers still looking for a way to get themselves away from combustible tobacco.
This study kicks sand in the face of many in the Public Health arena who are for some reason blinded to the potential in harm reduction brought forward by vaping devices, but it may just be the catalyst for many who actually work with the general public in a health care capacity to give this technology a second look.