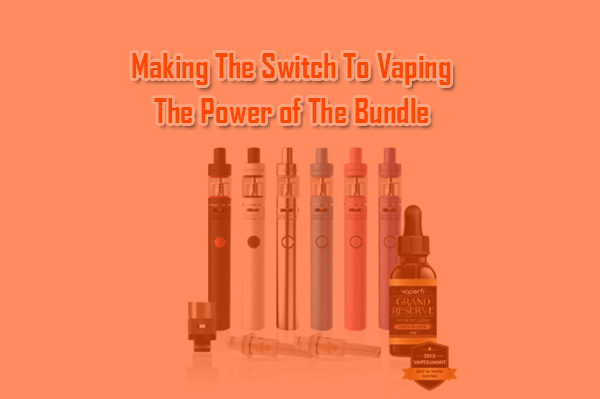 As vapers, we are always looking to change lives and bring smokers into our ever-growing ranks. We know for those looking to make the switch to vaping, the initial cost may seem prohibitive.  When you explain the difference in cost between a device that is going to last them a long time versus the constant cost of buying cigarettes on a daily basis, the cost seems much more reasonable.  For some though, even taking the leap to a basic starter kit seems to much.  Seeing as though it is close to Christmas, some of our friends have decided to open up the doors with whole starter bundles for next to nothing.  When ever I talk to smokers, I try to encourage them to get the best setup that they can afford.  Some of the deals I have found will make it simple for almost anyone on any budget to drop the excuse that vaping is expensive and get on with saving the rest of their lives.  Making The Switch To Vaping: The Power Of The Bundle will look at sweetening the pie slightly with some amazing deals.
---
Ultimate Holiday Beginner Gift Bundle
They call this a stocking stuffer, I call this an amazing starter kit.  The Ultimate Holiday Beginner bundle kit will be a great stepping stone for any smoker looking to make the switch.  Starting out with the  SUBVOD kit from KangerTech, a 1300 mAh battery system and SUBTANK nano S combination.  The SUBTANK is the new variation, top fill technology which is perfect for new vapers.  Pass through technology in  the base unit means that the user can charge it while it's in use.  The kit also contains a pack of replacement coils and to top it all off a 30 ml bottle of VaporFi Grand Reserve "Catch Ya Latte", a perfect blend of hazelnut, caramel and latte.
Ultimate Holiday Beginner Gift Bundle: CLICK HERE
---
Make the Switch Holiday Beginner Gift Bundle
Eleaf decided to make sure that new vapers have plenty of power and juice for days with the ijust 2 starter kit.  With a 2600 mAh battery capacity capable of firing between 30-80 watts and a 5.5 ml tank will keep you vaping all day this starter kit is nothing to be sniffed at.  With the honey comb drip tip and adjustable air ring the ijust 2 is a perfect kit for beginners.  The only way they could have made it any better would be to pair it with some phenomenal e-liquid, like Milk and Honey from Cosmic Fog. All you have to do is pick the nicotine level and you are well on the way to putting cigarettes behind you.
Make the Switch Holiday Beginner Gift Bundle: CLICK HERE
---
Mini MOD Holiday Gift Bundle For The Novice
Whether this is for a current smoker or vaper looking to upgrade to their first box mod, the VPark 30 watt starter kit will be a pleasant surprise.  With a 1000 mAh built-in power supply sitting beneath the 2.5 ml Maxtank mini tank this set up will keep them running for a while.  Adjustable airflow at the bottom and top of the tank give the vaper the opportunity to find the perfect sweet spot for their vaping experience.  Solidly constructed with aluminum alloy a drop or two will not hurt this mod, the super bright OLED make changing the settings simple, even for the almost blind.  Paired with Galactica from Space Jam, this set up will keep the new vaper happy..at least until the bottle is empty.
Mini MOD Holiday Gift Bundle For The Novice: CLICK HERE
---
Getting new vapers up and running doesn't have to cost a fortune.  Pairing these device's with some of the greatest tasting e-liquids on the market will give them the push toward the edge that every smoker needs to put down their last cigarette and walk away for good.
As always, enjoy your vaporizer and vape safe!