The launch of Circuit E-Liquid Company – With nearly five years of experience within the vaping industry, upholding an active role in helping new and existing vapers with electronic cigarette information, the success of multiple vaping related websites and a dream to one day own an e-liquid company where I'm not the one telling about it, instead I'm the one providing it – Circuit E-Liquid Company was born.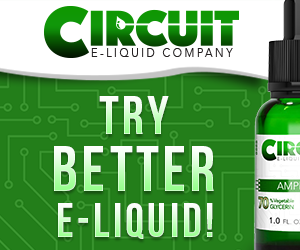 Circuit E-Liquid is a company that truly delivers when it comes to e-liquid.  The e-liquid and the website you purchase it from have been themed around circuit boards to relate to something you feel comfortable with, as you already use them each day while they're housed in your devices.  The e-liquid bottle itself is made of green colored glass.  The green glass not only ties in with the whole circuit theme, but it also offers UV protection, helping uphold the e-liquid's quality and fresh flavor.  The top of the bottle contains CRC droppers in order to make the product as user-friendly as possible, while the tamper evident caps are used for your safety and those around you.  Circuit E-Liquid Company has had the bottle labels professionally designed, again playing with the circuit theme, yet still offering a custom, professional, yet highly informative appearance.  Each printed circuit board bares the flavor name, while the rest of the label will indicate vegetable glycerin percentage, nicotine strength in milligrams and volume percentage, a list of ingredients, a manufactured date, an age to vape indication to prevent the sale to minors, and a batch number that is used to further trace the e-liquid for information, analytical and safety purposes.
There are many reasons why you should consider trying Circuit E-Liquid.  To prove this brand isn't just some overnight e-liquid company trying to get rich quick, here's a list of reasons why it's here for the long haul.
Manufactured In A Cleanroom

When many start-up e-liquid brands begin, they'll typically offer you a product that doesn't meet any type of standards, professionalism lacks due to funding, there are no included test results on the e-liquid product, and the product as a whole suffers in quality.  Unfortunately, that is how it goes when starting a small business, but we wanted to be more than the ordinary.  We came out of the gate with a product that is made to the highest standards, manufactured in an actual cleanroom, and delivers the professional and clean qualities you should receive immediately as a consumer.  To offer this, we use a 3rd party to manufacture Circuit E-Liquid.  This way, you immediately get the professionalism, quality, and reassurance that the product you purchase from Circuit E-Liquid Company is the best it can possibly be.  Circuit E-Liquid is manufactured in an ISO 14644-1 Class 7 Cleanroom.

E-Liquid DA/AP Analysis

With the latest controversy over Diacetyl and Acetyl Propionyl, we wanted to ensure you that Circuit E-Liquid is squeaky clean.  With that being said, we've went ahead and had Circuit E-Liquid Analyzed by Enthalpy Analytical, Inc., and have provided you with those results.  Both DA and AP were not detected in Circuit E-Liquid, even after the product was blended and completely finalized.  We take your health and safety seriously, and we want that to be obvious with our product.

Transparency

At Circuit E-Liquid Company, we're completely transparent.  This means, we're not going to hide our manufacturing process or the ingredients that make up Circuit E-Liquid.  In fact, we want you to know more about the product you're purchasing, which is why with each bottle you purchase, you'll receive the ability to completely track what was used to make it.  Learn more about tracking with NicTrace below.

Quality Flavor and Consistency

Circuit E-Liquid delivers 5 of the best e-liquid flavors you'll ever have the chance to run through your coils.  These flavors are super complex, precisely blended, they promote quality, and they also happen to be extremely delicious.  Due to the advanced manufacturing process for Circuit E-Liquid, each bottle delivers the same consistency and same great taste.

Further Tracking With NicTrace

At Circuit E-Liquid Company we offer the NicTrace software, where you can trace every part of the e-liquid you've purchased through the batch/lot number that is located on every Circuit E-Liquid bottle.  The bottles contents will be available on our website for your viewing pleasure.  By simply submitting the batch number that has been printed on the label of your bottle, you will be provided with e-liquid documentation.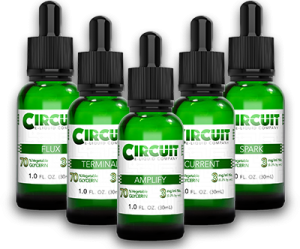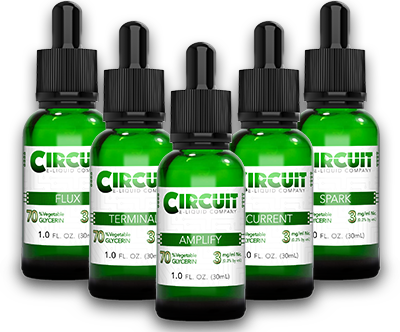 Indeed, Circuit E-Liquid can look good, get manufactured in the cleanest of cleanrooms, and perform great as well, but after that it all comes down to its flavor.  Where Circuit E-Liquid excels in the e-liquid market is from being designed by myself.  For five years I've had the privilege of having e-liquid brand after e-liquid brand sent to me, simply for me to taste and share my thoughts.  With this opportunity I've been able to truly pin-point what the difference is between a quality liquid and one that wasn't given much thought, the difference between a well-balanced flavor and one that's been thrown together, and the difference between a unique flavor and one that's merely a clone.  As a consumer I've learned exactly what to look for when purchasing e-liquid, which consists of customer care, professionalism, quality, amongst many others.  With the 5 years of experience I've gained, the knowledge I've acquired through it all, and the motivation to create an e-liquid that has been thoughtfully crafted, precisely mixed and designed to perfection, I present to you Circuit E-Liquid Company.
Flavor Descriptions
Amplify E-Liquid

Amplify premium e-liquid is a unique melon flavor with subtle undertones of tropical fruits.  There's just a hint of refreshing menthol added into the mix to truly "Amplify" the overall experience.

Current E-Liquid

Current premium e-liquid is a masterful combination of irresistible papaya, citrus infused pineapple, and an orally exciting hint of menthol.  It's just the right "current" for the most unique mentholated vaping experience.

Flux E-Liquid

Flux premium e-liquid features an exquisite apple base with just the right "Flux" of summer and tropical fruit undertones.  This flavor promotes an overall delicious and satisfying experience, one that you won't want to be without.

Spark E-Liquid

Spark premium e-liquid is ultimately a delicious mixture of various summer and tropical fruits.  With the immediate taste of a juicy apple and a highly unique banana pairing, this perfectly crafted flavor is sure to quickly grab your attention.  Its additional flavors, which will remain a mystery, will deliver just the right "spark" for the most exciting vape you'll ever experience.

Terminal E-Liquid

Terminal premium e-liquid is a precisely formulated mixture of succulent peach that acts as a "Terminal" leading you into incredibly delicious tropical fruit undertones.  The undertones were added to enhance the overall flavor, as well as a way to balance out the sweetness of the peach.
Available Nicotine Strength: 3MG, 6MG, 12MG
Available Ratio: 70%-VG, 30%-PG
Available Bottle Size: 30mL
Personal Note:  I've never vaped an e-liquid so unique and delicious.  There are a total of 5 flavors in this e-liquid line, all high viscosity, and all offering those all-day-vape qualities.  This e-liquid was placed in some-what of a safe zone, where we're not looking to push the boundaries and deliver a taste you'll either love or hate, these are flavors we're certain you love just as much as we do.  These are flavors that bring us back to our roots in vaping, all offering a fruit base, while 2 of the 5 flavors give up just a hint of menthol that will allow you to continue to drip on your favorite atomizer without the scare of a killer throat-hit.
Don't just take my word for it… try it for yourself:  Circuit E-Liquid Company
I would like to take this space to thank those who have supported me and the Guide To Vaping website, as well as thanking those who have supported Circuit E-Liquid Company thus far.  As you've seen with Guide To Vaping, when I set my mind to something, I go all out to deliver the best I possibly can.  Circuit E-Liquid Company will receive the same effort.