I was asked if I could give my opinion and my review of the Metro Platinum All-In-1 Kit from metroecigs.com and after glancing over the professional and well put together Nikotek Metro website, I couldn't refuse the opportunity.
The Kit was sent off in the mail Wednesday and arrived very quickly here on Friday.  Very quick turn around and I could tell the people at Nikotek meant business.  From my first talk with Jessica at Nikotek, I could sense professionalism and a belief in the product she sales, which is what's got me excited to really put the Metro to the test.
The Metro Platinum All-In-1 Kit arrived shortly and I quickly opened the package to find a small box, neatly labeled with the Nikotek and Metro logo, what the package contained, a small bullet list of the benefits of electronic cigarettes and a quick comparison between analog cigarettes and electronic cigarettes.  The outside of the box was the least to say about the kit, let me tell you what was inside the box.  On the inside I pulled out 2 small boxes that held the 2 rechargeable lithium-ion batteries, 1 AC/USB wall charger, 1 DC/USB car charger, 1 USB battery charger and 10 vaporizer cartridges (cartomizers).  What was also inside the box was a deluxe tin carrying case, which to be honest I thought was pretty spiffy.
Now before I go on with how this kit performed, I must point out something that really stood out to me.  What I liked best about the Metro and it's packaging was the look of the kit.  I've seen many kits and none of them seemed to stand out this much as far as the obvious time put into the smallest thing, like the case, to the biggest part about the kit being the Metro electronic cigarette.  An electronic cigarette is a simple device and there just really isn't a lot to it.  Making your product stand out and letting it be known that you've put the time into it to make it better than the rest rather it be eye appealing or performance is what drives me to that product or company and from the looks of it, Nikotek has did just that.
I'm now a long time vaper and I've moved on from using stick type batteries like I, along with many others just starting out have used.  Being that the stick type battery (like the Metro) isn't my cup of tea, I had to really put this thing to the test to give it that GuideToVaping approval.  It's a Friday night and I love to hang out at the bar.  This bar doesn't allow analog cigarettes to be smoked inside, so I knew this would be the perfect test for the Metro.  I went inside the bar and ordered a few drinks and sat at my normal table.  I started vaping on the Metro a bit, really enjoying it's sweet 'Traditional' tobacco taste and suddenly remembered that I'm not to fond of e-cigs that try to look like a real cigarette, but this time was different.  The feel of the small analog cigarette look-a-like brought me back to those days that I used to have.  You know, you're sitting at the bar, a cig in one hand and a drink in the other.  It made me feel a bit more comfortable then having a bigger battery e-cig and it mixed very well with my drink.  What also felt great was that the Metro e-cig is small enough to hold it like a normal cigarette, performed better and I was still getting my nicotine.  Oh, I forgot to mention that I was the only one at the bar able to smoke vape inside.  As you can see in the below picture, I was having a great time and with the Metro Platinum.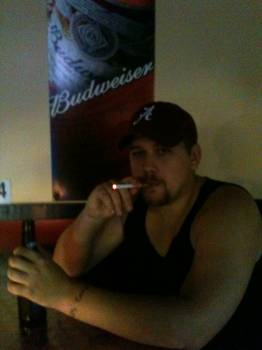 I carried on throughout the night and me being a heavy vaper, it actually took the beating I gave it.  The Metro e-cig performed well, gave off a decent amount of vapor, and the battery held up throughout my fun night.  After talking with my wife a bit on our night out, we've come to the conclusion that the Metro is a nice performing electronic cigarette in the stick type battery category, with great looks and at an awesome price for what you get and the quality you get.  If you're out looking for an electronic cigarette and you still want that analog traditional cigarette feel and look, then the Metro Platinum All-In-1 Kit would be an amazing investment.
Visit www.metroecigs.com for more information, details and products. For 20% of your next order at metroecigs.com, use coupon code G2V20
Look at the picture below.  I'm still amazed at how much the Metro looked and felt like a real analog cigarette. Look at ALL that vapor!!