In a combined effort to create some of the most deliciously tasting pod flavors available for the Myle Vape Pod System, the Myle and Vapetasia brand have joined forces for a little shock treatment for vapers all throughout the world. The result is the all-new Vapetasia Killer Kustard Salt Nicotine Pods by Myle Vapor.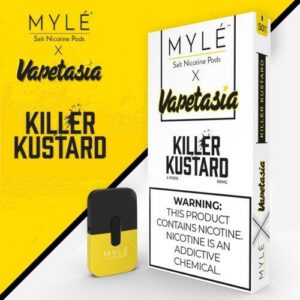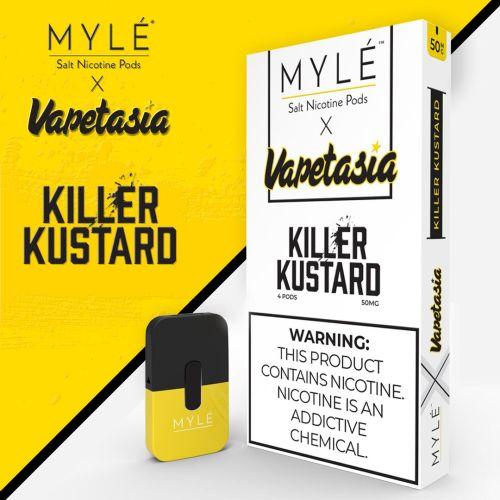 The Myle Vapor brand is one that many people have become familiar with in the last couple of years due to the release of the Myle Vape Pods. In the midst of Juul's rise, Myle set out to be a more affordable option, touting without saying a single word that it can create a product in the same class and be better. Always looking to progress and offer more to its hefty customer base, Myle Vapor chose Vapetasia Killer Kustard to push its brand even further by offering one of the industry's most recognized names when it comes to flavor — Killer Kustard. It's a name that you've seen all throughout the web, plastered on stores, blogs, and we're sure you're even spotting this famed flavor at local brick & mortar shops in your area.
With the combination of the already impressive Myle Vape Pod System and the new Killer Kustard Salt Nicotine Pods, the experience has been enhanced drastically by delivering the same stellar performance that the Myle offers, and the same delicious taste of Vapetasia Killer Kustard that users have been experiencing for years. Many people are already aware of the performance you receive from the Myle pod system, and just as equal, there are many that have tasted the magical taste of Vapetasia's Killer Kustard Salt Nicotine E-Liquid. Now you can experience both at the same time, and if you have yet to try Killer Kustard, you should get your taste buds ready for the taste of delicious vanilla custard that leaves your mouth watering with flavor.
From the new Myle Killer Kustard Salt Nicotine Pods, you'll enjoy a flavor profile of custard and cream, and experience up to 50MG of nicotine per pod. Each pod houses approximately 1ML of salt nicotine e-liquid and the pod itself can be replaced with ease. When you buy the Killer Kustard Salt Nic Pods, there are 4 pods that come in a pack so you can enjoy the outstanding Killer Kustard taste for an extended period of time.
Where Can I Buy Them?
The Vapetasia Killer Kustard Pods by Myle Vapor has just been released and is now available on the West Coast Vape Supply store. These pods will be heavily sought out, so the first batch may not stay around long. Simply visit West Coast Vape Supply now and make sure you get your 4-Pack of Myle Killer Kustard Salt Nicotine Juice Pods now!