Around a month ago, I was contacted by Brett from TexasSelectVapor.com and was asked if he could create a juice just for GuideToVaping.com and promote it as a GuideToVaping Exclusive. I was flattered to say the least, but if it's a GTV exclusive, it had to be the best of the best. I had no doubts in Brett's mixology when it comes to making some good juice and I quickly gave him the approval. He told me he has already had a certain juice in the works and thought it would be great to use as our exclusive juice with just a few more finalizing touches.
Over the next week, Brett kept bragging to me "Man, I can't wait until you try this juice, you're going to fall in love!" he said. My expectations were high and I had full faith in him as I've become a #TSV fanboy after trying an assortment of his other juices, which I must say are now my all day vapes. Just to name a few of the e-liquids he makes that I'm in love with: Doctor Love, Sweet & Tart, Juicy Peach…
In the following weeks he managed to finally let me get a taste of our new exclusive juice and from the first toot of my Pearalyzing Peach filled Bombshell Mod, I was instantly in a trance of e-liquid bliss. Don't think I'm over exaggerating either, the juice is delicious. When I sample any juice that gets sent to me, my wife gets all excited and stands right beside me waiting for her turn to test them out. I passed over my bombshell to her and after her first pull from my ruby ming drip tip, her eyes did that thing where they look like they roll into the back of her head. I wasn't jealous that this juice could do that so easily, yet I was worried.
The hint of pear on the inhale and a blast of peach on the exhale set this juice off to be one of the best e-liquids I've tried and trust me, I've been fortunate enough to try many. Although I had no doubt in this juice Brett from TSV kept hyping up, I was stunned at how on point he was about the great taste. I guess after spending quite a bit of time with this new vendor on late night Skype and G+ video calls, he's grown to know my likes and dislikes in juice.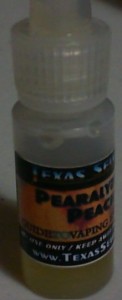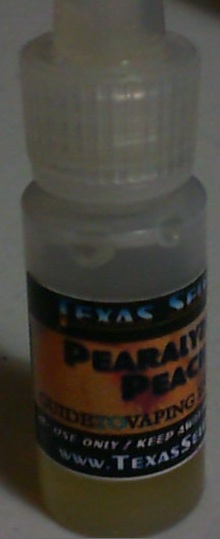 Vaping on the Pearalyzing Peach e-liquid, I've found it to not only succeed in taste, but it also produces quite a bit of vapor, just like the rest of Brett's juice line-up. The throat hit isn't harsh, but our own Brett here from GuideToVaping says it's one of the better throat hits in the TSV juice lineup.. "The taste of the juice is amazing, but you know me… I love a good and harsh throat hit. Out of the many e-liquids I've had from TSV, I'd say this one has the strongest throat hit from what all I've tried." says Brett D. from GuideToVaping.com. I to found this juice with more of a throat hit, but still nothing harsh. I love a nice and smooth throat hit to go with a great tasting fruity flavor. Nothing harsh, just smooth and relaxing for me.
The peach in Pearalyzing Peach is a candy type peach and the pear is more like the actual fruit, but it works well with the candy taste of the peach. I guess it took that special mixture of flavors to really set off GuideToVaping's first exclusive juice. When you receive the bottle of Pearalyzing Peach, you'll notice on the bottom of the label that is says "GuideToVaping Exclusive", which I thought was a nice touch and a nice compliment to the juice. I've taken a picture for you to see, but I do apologize about it lacking liquid. I'm sure you understand by now where it's all went.
Pearalyzing Peach has that distinctive lingering type of fruity flavor that'll leave your mouth literally watering and wanting more. I'm now on my 3rd bottle of Pearalyzing Peach and soon I'll have to make my next order, it's just that good. If you want a great fruity type tasting ejuice, then I highly recommend purchasing some Pearalyzing Peach, a GuideToVaping exclusive from TexasSelectVapor.com