Disposable ecigs are incredibly popular because they are easy to use, satisfying, and come in great flavors. With flavored prefilled vape pods no longer on the market, disposable vapes are the only game in town for adults looking for a simple device that requires no filling. 
Most disposable vapes are very similar technologically and are only distinguishable by flavor choice and logo. There are two basic styles of disposables that make up most of the market. Stick style disposables, like the Zaero and Puff Bar, are about 4 inches long and use a cotton polyfill loaded with salt nic. The other style is the disposable mini vape. These are smaller, less than 3 inches, and store the ejuice in a pod that lays parallel to the battery. Both styles work great and their performance has more similarities than differences. Both are autodraws with no fire button. Stick disposables usually hold more ejuice but none hold as much as the Posh Plus.
The Posh Plus is an outlier the breaks the mold.  
Posh Plus Disposable Vape
The Posh Plus Disposable Vape has a unique form factor and look. Stout and cylindrical, enclosed within each compact Posh Plus is a cartomizer style polyfill loaded with 2ml of ejuice and a 480mAh battery. The manufacturer estimates 500 puffs from a Posh Plus. The actual number will be determined by how long you inhale each puff and mileage may vary. But there is no doubt that this is one of the longest-lasting disposables around, and by a wide margin. 
With a mouthpiece that resembles a Smok Novo or Nord, this is a very sophisticated device. It retains all the traits that make disposables popular with adult vapers looking for an easy to use device. It is also a great fit for smokers looking to switch to vaping. No charging is required to operate a Posh Plus. There is nothing to fill and no pods to swap. It does not even have a fire button. Just unwrap and puff to get the massive flavor that the Posh Plus delivers. 
The most unusual element stylistically is the base that lights up when the Posh Plus is in use. Designed to resemble the burning ember of a cigar, it looks a bit out of place and outmoded. Otherwise, this is a sleek and compact design. The big glowing faux-cigarette butt does nothing to mar the lines or performance of the Posh Plus. 
The Posh Plus is only 3.75 inches long and has a diameter of a half-inch. Weighing only 25g, the Posh Plus is a featherweight in the grand scheme of things but is a bit heavier than smaller and less capable disposables. 
With a nic strength of 6 percent, the Posh Plus is geared to providing all-day satisfaction. The vapor production is actually a bit better than other disposables but the flavor is just as crystal clear. Regarding flavors, the Posh Plus has an absolutely stacked lineup and all of the most popular nic salt flavors are available.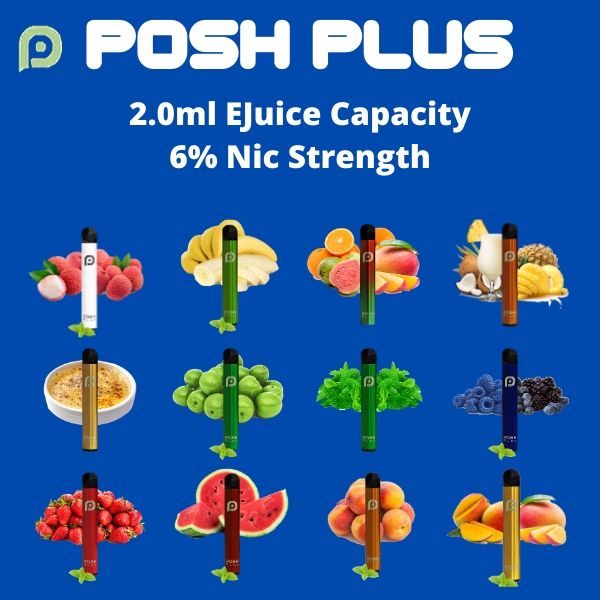 Posh Plus Flavors
Cali Peach Posh Plus
Juicy peach is a great nic salt flavor and the addition of icy menthol smooths out the nectary sweetness. One of the most popular Posh Plus flavors, Cali Peach is perfect for adult vapers looking for a sweet all-day vape.
Mint Ice Posh Plus
Whether it is called Minty Ice or Menthol Ice, the cool blast of menthol from this Posh Plus flavor is clean and cold. The hard candy peppermint flavors are firmly in the background but notes of spearmint add depth to the Minty Ice Posh Plus. 
Minty Melon Posh Plus
The Posh Plus is a heavyweight contender in the always competitive lush ice disposable space. Foregoing the cryptic "lush ice" name in favor of a more descriptive Minty Melon, there is no doubt what this disposable vape is all about. The sweet and light watermelon flavor ice well executed and the cold menthol finish is exactly what adult vapers are looking for. Perhaps the quintessential all day vape, this take on lush ice is fantastic.
Frozen Mango Posh Plus
Much like lush ice, there is plenty of competition when it comes to mango flavored vapes. Posh Plus plays this greatest hit and plays it well with the Frozen Mango Posh Plus. You still get the full delicious impact of tropical, rich mango. But the cold veneer of menthol ice rounds out the dank tartness of mango and makes for an enjoyable vaping experience. 
Cream Brulee Posh Plus
It was a sad day for the millions of adult vapers who enjoy dessert vapes when Juul Crème, previously known as Juul Crème Brulee, was canceled. Despite how incredibly delicious the combination of vanilla, caramelized sugar, and custard are in a nic salt, there were few nic salts that really hit the mark. But even as the nic salt market has shifted towards menthol fruit blends, Posh Plus still offers their tremendous Cream Brulee Posh Plus. Complex and simply marvelous, the richness, smoothness, and nuance are almost unmatched in a disposable vape. 
Minty Berry Posh Plus
Minty Berry Posh Plus takes the classic mixed berry vape flavor profile, one of the most popular on the market, and adds a dash of menthol. The combination is nearly irresistible as the sweetness never overwhelms and the iciness enhances the fruity flavor tones. A fine alternative for fans of Juul Fruit Medley or Mixed Berry Vuse. The addition of the menthol is not so overwhelming that it will deter fans of fruity nic salts. But there is enough coldness to keep adult vapers who love menthol ice flavors happy. 
Pina Colada Posh Plus
Pina Colada Posh Plus is an outstanding beverage and fruit vape. Posh really captures the sweet pineapple and creamy coconut quite accurately. This disposable ecig replicates the flavor of the legendary Pina Colada tropical drink. The fruit notes are sophisticated rather than sugary. The unique flavor elements complement each other perfectly, just like in a real Pina Colada.
Frosted Apple Posh Plus
Frosted Apple Posh Plus is influenced by the flavor of the most wholesome of fruits but it has a frosty edge that adult vapers will adore. The ripe apple flavor is mixed in with a hint of a sour green apple candy. The icy blast of menthol is not only cooling but adds a sharpness to the fruit dominated inhale. This is a perfect vape for nic salt vapers and fans of all things menthol and fruit.
OMG Posh Plus
Orange, mango, and guava are a power trio in the OMG Posh Plus. The mango provides rich tropical notes that balance out the sweet guava. The tart citrus orange is also sweet and an unmistakable and pleasant flavor. Fans of fruity nic salts will love OMG Posh Plus. 
Banana Smoothie Posh Plus
Banana Ice nic salts are one of the hottest flavors in disposable vapes. Posh Plus has leaped onto this bandwagon with Banana Smoothie Posh Plus. The banana is creamy and ripe. There is no overwhelming sweetness because of the healthy admixture of menthol ice. 
Minty Lychee Posh Plus
Minty Lychee is a great take on the popular disposable flavor Lychee Ice. A tropical fruit with a unique kick, if you enjoy Lychee Ice you will love Minty Lychee. And you will get a lot more puffs with the 2ml ejuice capacity of the Posh Plus. 
Tobacco Menthol Posh Plus
The overwhelming majority of adult vapers, and in particular adult nic salt users and former smokers, greatly prefer bright and fruity ejuices to tobacco. But billions have spent to ban these preferred flavors and there is a solid core of vapers who prefer tobacco. If you have been left with the choice of either being funneled back onto cigarettes or to embrace tobacco vapes, there are some solid flavors out there. One of these is the Tobacco Menthol Posh Plus. It may not have the throat kick of regular ejuice, but the 6 percent nic salt is quite potent. The flavor is straight flue-cured, sweet tobacco that tastes remarkably similar to a cigarette. Long gone are the days when tobacco ejuice tasted like a pack of cigarettes smelled and had as much in common with coffee as any tobacco on the market. The addition of menthol is crucial, as it coats the darker flavors of tobacco with bright and shiny ice.