If you're looking to take advantage of some deals offered before Black Friday, we have a great one available for you today, and today only!  You'll have the chance to purchase the Sigelei 150W TC Mod for just $69.95, but you better act quickly because this deal ends soon!
Sigelei 150W TC Mod Info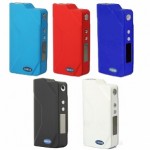 The all new Sigelei 150W TC Mod looks absolutely stunning.  It features a highly appealing design, which is lavished in just as pleasing colors to truely make the device stand out amongst a crowd of others.  The Sigelei 150W is powered by two 18650 batteries, which are sealed off by its magnetic battery door.  The 510 connection at the top comes with a 510 spring-loaded center pin, allowing any device you attach to it to have a solid connection, and giving allowing atomizers to sit flush.  A large fire button is at the top of one side, the plus and minus buttons below it, then there is a brightly lit OLED screen for your viewing pleasure.  Furthermore, it has the ability to fire up to 150 watts of vaping power, and even features the industry's latest technology, temperature control.  You simply can't go wrong with the 150W TC Mod by Sigelei.
Price: $69.95
Deal Ends: 11/25 at 11:59PM ET.
Sigelei 150W TC Mod: GET IT HERE