Electronic Cigarettes have become a fantastic alternative for millions of people, and though the majority of them do use the stick style ecig (look-a-like), it of course has its flaws. The size is what pulls users in; it looks like a real cigarette, performs like one, yet it isn't one. New e-cigarette users are used to this look, but just as quick as it pulls them in, these same features have been known to push them away just as quick.
These small ecig's may look and feel comfortable, but these features can only get you so far. To carry you the rest of the way, you'll need a battery that is capable of holding you over at least half a day and for you heavy users, you'll need something even more.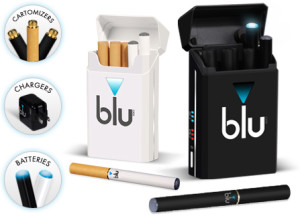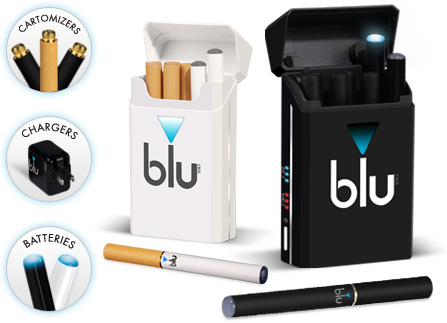 Starter Kits have become really popular in the ecig industry because of the two batteries that come with it. But again, for the heavy smokers, two small batteries could be ran through in as low as half a day. This posed a major problem for ecig users… until the electronic cigarette personal charging case was invented.
Since the debut of the first personal charging case, PCC's (Personal Charging Case's) have always been the upside to stick style ecig's. Not only do you get 2 batteries, but you also have a way to charge them on the go. PCC's typically look like a plastic version of a tobacco cigarette pack. Many of them have slotted holes inside the case to charge an extra battery and hold spare cartridges (cartomizers). It sounds like the perfect alternative, right? – That's what you would think.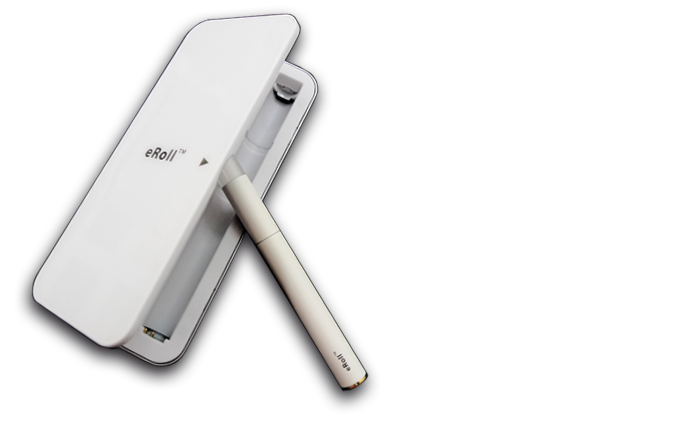 Although the same PCC's are being used today, the hype of them slowly trickled away. The idea is brilliant, but I believe the bulky, hard and outdated look was the deterrent. Then just when things started to really sizzle out in the PCC department, Joyetech reinvented the Personal Charging Case.
The Personal Charging Case has officially been reinvented, packing better performance from its changeable atomizer head, longer battery life from the 1000mAh PCC, offering a more tank like feature that you see on other products like the eGo-C, and making the already compact electronic cigarette even smaller, with a 'mini' design.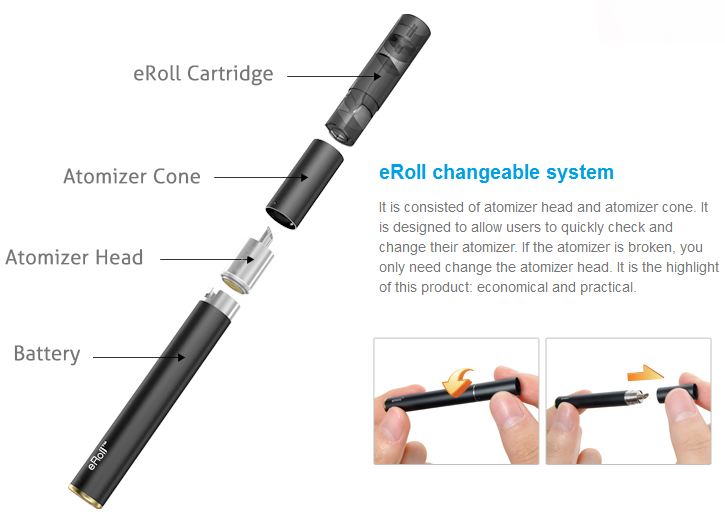 The eRoll brought a look to PCC's that is comfortable for users, pocket friendly and a quality that many have become familiar with. That said, it looks exactly like an iPhone 4 (minus the screen). For you Android fan-boys… don't worry, it doesn't come with iOS.
It's very clear that this electronic cigarette is super small, but don't let the size fool you, it comes packed with an atomizer that can keep up with the best of  'em. In my experience, this changeable atomizer head produces a heavy amount of vapor, but unfortunately it doesn't make e-liquid flavors shine like with a typical 510 atomizer setup.
Not sold yet? Good, because I don't work for Joyetech. (just in case, Joyetech hit me up 555-5555)
Though this little fun packed PCC isn't currently in my daily lineup, I think it still deserves a second look.  Click here to see our full written and video review of the Joyetech eRoll.