The dual coil tank has been around for quite a while now. It comes with a solid history and one of the most hyped and well known products that originated right here within the online community.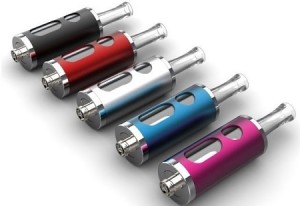 In addition to its history, that also includes the struggles and aggravation that comes along with the DCT. For me personally, I don't think highly of dual coil tanks. They're so hit and miss with the dual coil cartomizers and when using them on tanks, it has to be filled and primed just right, so that you're not stuck with another burnt cartomizer. Now this isn't to say that there was problems with the original DCT's from back in the day. Again, in my opinion, the problem relies on poorly made cartomizers, which I've experienced on more than one occasion from SmokTech.
Much like my past experienced with DCT's, the SmokTech Pyrex DCT wasn't much of a difference. Drop a single coil cartomizer in this bad boy, and I'm sure things will be much different. But unfortunately, that isn't the case for this review.
It's a sad thing, because I do want these DCT's to work. The SmokTech Pyrex Tank looks fantastic. It's a solid black tube with one side having the "SMOK" logo and the other being a uniquely designed sight glass window. Located on the top and bottom are polished aluminum caps with seals to ensure no leaking. This new tank design is awesome, but when designed is the part improved on this hardware, the looks can only get you so far.
As for build quality, this DCT definitely excels. This is possibly one of the best made DCT's I've seen manufactured. Again, SmokTech has certainly improved its design, with the solid metal tube and end caps. It has some weight to it that will prove it. The biggest feature to this tank, is that its inner tube isn't made from a plastic like most of your common DCT's. This tank is actually a pyrex glass, which is what a lot of users are moving to because of other e-liquid flavors melting plastic tanks. That said, acidic eliquids can be used with the Pyrex Tank. Another cool feature is the outer metal shell. The strong metal will act as a protector for the pyrex glass, which I'm sure many will enjoy.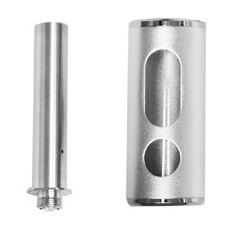 In the performance department, the SmokTech Pyrex DCT is lacking – or at least for me, it is. It's so hit and miss with these cartomizers and ultimately creates more frustration than really needed. I feel that dual coil cartomizers are just so 2012 and other tanks have surpassed them. Other tanks have improved on design and performance, while SmokTech tries to bring back a one-hit-wonder. On the other hand, give me this tank with a Boge single coil cartomizer and I'll be on it all day.
The SmokTech Pyrex Tank is an awesome design, it offers nice features, but the cartomizer that comes with it just isn't cutting it for me. Now, this isn't to say it's the problem is the dual coil cartomizer at all. However, I just haven't had the best of luck with them and this one didn't prove any different.