Today I will be reviewing the Cloud Chasers Inc Archon RDA.  Unless you are brand new to the vaping scene, chances are  you have heard of Cloud Chasers Inc.  A company created for vapers by vapers, they boast juice lines and hardware in all shapes and sizes.  Today we will be focusing on the Archon RDA, I have a cloud competition on Saturday night and this will be the first time I have used it competitively.  This RDA may look cute on the outside, but it houses an angry beast beneath that barrel.
Whats In The Box
When you purchase the Archon, the first thing you notice is the Cloud Chasers Inc. logo embossed on the top of the box. They want to make sure that you, and everyone else in the store knows exactly what you just bought.  You open the flip top and the first thing you see is a small ziplock bag full of spare parts.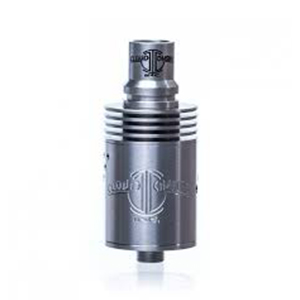 Not the standard extra o ring and magic blue screw driver you receive from every other manufacturer on the face of the earth, but a bag filled with  replacements for pretty much every replaceable part on the RDA, including a copper center post.  You move the bag of precious cargo to one side and see that you have a grand total of 3 510 over-sized drip tips, one that matches the RDA, one in Delrin and a third that acts as an adapter for a standard 510 tip.
The specifications for the RDA are as follows:
22 mm design to sit flush on most mods
8 holes per side (2 bottom holes slightly larger than other holes)
Step-down AFC (allows you to have any number of holes open/closed)
Removable SS center post and Copper replacement post
Hexagon posts to prevent spinning post
Threaded PEEK Bottom insulator
PEEK top insulators
Large post holes
Deep juice well
Comes with ultra wide bore drip tip AND standard 510 Delrin adapter
Engraved (not laser etched) Cloud Chasers Inc. Logo
Serialized
As well as the standard 3 post deck and top cap that come in the box, you can also purchase a 2 post deck, and what they call the "cloudy cap".  A "chuff" style cap that has the airflow fins attached, so you can still take full advantage of the highly engineered 16 hole airflow design.  As of right now, I will concentrating solely on the initial package for building and competition purposes.
How Does It Work
The deck sits perfectly flush with any 22 mm tube mod, I have tried it on several and it lines up flawlessly.  The step down airflow control works exactly as advertised.  It gives you the option to fine tune your vaping experience by allowing you to close off 2 holes at a time, adjusting between 2 and 16 holes open at once.  The bottom 2 holes on each side are slightly larger than the rest, always giving you optimum airflow beneath the coil.  The juice wells are ridiculously deep.  When it was designed, you can tell it was by someone who had hit dry in the middle of a massive pull and never wanted that to happen again.
My personal pet peeve with any deck, is tightening down the positive post after getting my coils perfectly aligned, just to have them twist because of a tad too much pressure.  This deck comes with a hexagonal positive so it is a lot harder to accidentally over tighten to the point twisting the post.  Another awesome feature is the insulation system.  The top section is hexagonal, outside and in, to hold that post perfectly in place.  Every section of the insulator is made from PEEK rather than Delrin, as it has a higher resistance to heat.  Cloud chasers will tell you that melting insulators happens regularly, when you push equipment to the limit.  The post holes are over sized so you can, in all honesty, put what ever build in there you like.