The SMOK brand is known for developing some of the most iconic products. The latest to join its arsenal is the SMOK G-Priv 3 Starter Kit, which is the next big thing to sit beside some of the greats in the G-Priv Series. This device isn't supposed to be bigger and better than the original, but more clean, precise, and its performance is heavily driven by the industry's latest technology. This includes a remarkable chipset, high wattage, temperature control, touch screen functionality, and a new Type-C port. It isn't better… it's the best yet.
SMOK G-Priv 3 Starter Kit Preview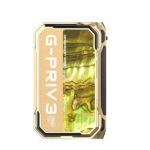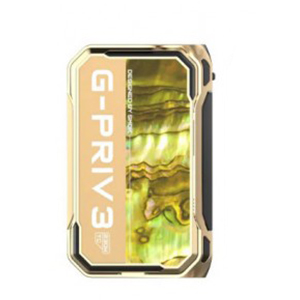 Constructed of a zinc-alloy material for outstanding durability and standing just 85mm by 54mm by 28mm, it is not only compact as could be but structurally sound. The outside of the device looks phenomenal. The first thing you notice is 2.4″ touch screen, side-firing bar, and secondary key that offers lock/unlock functionality. To add to this beauty, this device is available in Black, Prism Gold, Purple Red, and Prism Gold designs to boost the appeal.
On the backend of things, the SMOK G-Priv 3 comes equipped with an IQ-G Chipset (32-bit processor). With this chip, you can explore both variable wattage and temperature control. With variable wattage, you can reach up to 230W, while in temperature control you can reach up to 600 degrees Fahrenheit. There are 4 power levels, including soft, normal, hard, and max to fine-tune your experience. The power behind this device is amazing, allowing you to power nearly any tank or coil you pair it with. No matter if you are in variable wattage to tank advantage of the power or dabbling in temperature control, you will find that everything about this device is strong, precise, and clean, even throughout its internals.
Additional internal features include 4 memory modes, password protection on the touch screen, intelligent atomizer recognition, puff monitoring system, and several protection features that to protect both you and the device. As for battery life, the device is capable of housing dual 18650 batteries and has a USB Type-C Port. One big part to look at is the password protection. This password protection feature allows you to keep the little ones from being able to operate the device, while also preventing access for anyone else. The use of a Type-C port is also an updated feature, which is now becoming more common in advanced vaping devices.
SMOK TFV16 Lite Tank Preview
Included in the SMOK G-Priv 3 Starter Kit is the TFV16 Lite Tank, which creates the perfect pairing. It is a 28mm diameter tank that features a 5mL bubble glass. It's constructed of 304 stainless steel and uses pyrex glass, making it a very durable tank to own. At the top, there is a wide bore 810 resin drip tip, while just below rests a swivel top-fill system with a locking button so that you can easily fill your tank. At the bottom, the TFV16 Lite Tank sports a gold-plated 510 connection and a dual slotted bottom airflow control ring, that will allow you to control the airflow even better so that you can get the perfect balance between flavor and vapor.
The coils this tank uses are where a lot of the magic happens. It uses the new SMOK TFV16 Lite Coil Series for its TFV16 Lite replacement coils. These coils consist of the 0.2-ohm TFV16 Lite Conical Mesh Coil that is rated for 60-85W, and the 0.15-ohm TFV16 Lite Dual Mesh Coil that is rated for 60-90W. Both options deliver an impressive flavor and vapor production, so you can rest assured knowing you are getting the best performance SMOK has to offer.