Leading the industry with yet another innovative device, SMOK has announced the release of the SMOK Nord 2 Pod System. It is an improved upon version of the original Nord, now being thrown into yet another series of devices that rest under the massive product portfolio of SMOK.
As you know, SMOK is a giant in the world of vapor products, and they're looked at as the one manufacturer that should set the path for others to follow. Up until this point, that is what they've done, and obviously what they clearly plan to continue to do.  The original Nord device received tons of attention, gaining loads of success, and for this very reason, SMOK has decided to develop the same device but with upgraded features and support even more coil options. You'll learn all about what this device is about in this SMOK Nord 2 Pod System Preview.
SMOK Nord 2 Pod System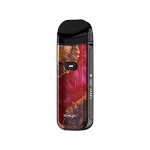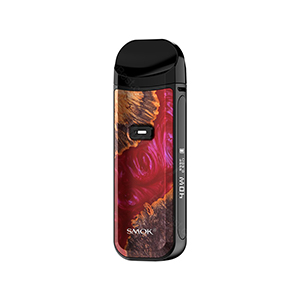 The SMOK Nord 2 Pod System looks absolutely remarkable, delivering stunning designs that are available in Red, Black Cobra, 7-Color Oil, Gold, 7-Color Cobra, White Cobra, 7-Color Resin, Black Stabwood, and Red Stabwood. Plenty of options to satisfy those who pay close attention to both design and detail. The outside of the device, as you would expect, looks outstanding. The designs are complimented with a 0.69″ OLED display screen that rests on the side of the device, a single firing button that allows you to fire the device and make wattage adjustments, and lastly, an ergonomic mouthpiece towers at the top.
With marvelous looks that will be sure to please even the pickiest of consumers, you will also feel at ease knowing that the SMOK Nord 2 Device Kit will stand the ultimate course of time by being presented in a hard-bodied shell that is constructed of a zinc-alloy material to enhance its durability and toughness.
Located inside of this hard shell is a proprietary intelligent chipset, which carries out various tasks to deliver the best functionality and performance while using the device. An integrated 1500mAh rechargeable battery is also present, combing with the advanced chipset to ensure the device has the ability to reach maximum potential. All of these components are stuffed into a compact device that is just 95mm by 30.5mm by 20mm, giving you the best experience with a minimal workspace.
There are many features capsulated into the Nord 2 Pod System, such as its variable wattage range of 1-40W, along with supporting resistances as low as 0.3-ohm. What is most impressive is the full protection suite that the Nord 2 offers, which consists of short-circuit protection, 8-second cut-off, and low voltage protection that were all implemented to protect both you and the device. Additional features include pod detection, a micro-USB port to charge the device, and a magnetic pod connection.
Being a pod system, the actual pod or cartridge is definitely worthy of some talking points. With the Nord 2 Pod System by SMOK, you will receive both the Nord Pod and RPM Pod. This means you will get pods that have a 4.5ML e-liquid capacity and support both Nord Coil and RPM Coils. As a result, included in the kit is a 0.4-ohm RPM Mesh Coil and a 0.8-ohm Nord DC MTL Coil.  The pods feature a mouthpiece, side fill system with a silicone stopper, and plug-n-play coil installation that makes the whole process of replacing coils even easier.