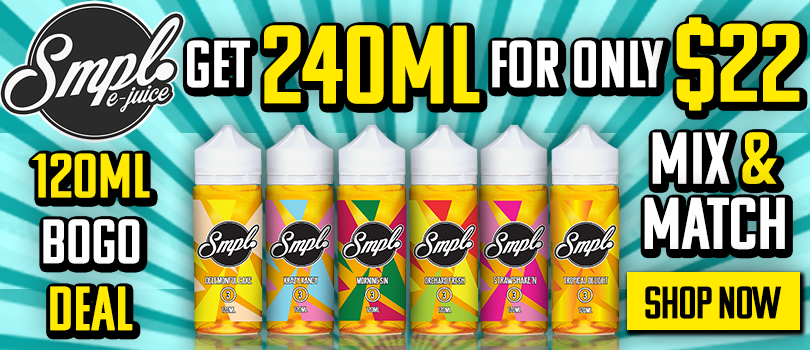 We've recently shared some deals promoting SMPL E-Juice but unfortunately we didn't mention that you can mix & match all of the flavors available. On top of the mix & match option, when you buy a 120ML bottle of e-juice, you get another flavor of your choice for free in this awesome BOGO deal! Can it get any better than this? YES! The shipping is FREE, meaning you pay just $22 and you get 240ML's of e-juice straight to your door (this is USA made e-liquid and they ship fast). Let me break this down:
[mks_col]
[mks_one_half]
Mix & Match All Flavors
Buy One 120ML Bottle, Get Another 120ML For Free
240ML's Total
Shipping Is FREE
[/mks_one_half]
[mks_one_half]
USA Made E-Juice
Fast Shipping
Great Flavors (Read The Reviews On The SMPL Website)
70/30 Ratio
[/mks_one_half]
[/mks_col]
---
[mks_button size="large" title="GET MIX & MATCH 240ML BOGO DEAL FOR $22 HERE" style="rounded" url="http://www.shareasale.com/r.cfm?u=821755&b=905785&m=67506&afftrack=&urllink=smpljuice%2Ecom%2Fcollections%2Fsmpl%2De%2Djuice%2Fproducts%2Fsmpl%2Dbogo%2Deliquid%3Fvariant%3D46063373575″ target="_blank" bg_color="#eeee22″ txt_color="#000000″ icon="" icon_type="" nofollow="1″]
---
When buying SMPL E-Juice you have a choice of six different flavors. There is DeLemonful Cake Eliquid, Krazy Kandy Eliquid, Morning Sin Eliquid, Orchard Fresh Eliquid, StrawShake'N Eliquid, and Tropical Delight Eliquid. Many choices to choose from and with two 120ML bottles only costing you $22, it would be a crime not to take advantage of this deal. Buy some for yourself, a friend, a family member, or just buy some to resell to a friend for a few extra pennies in your pocket.