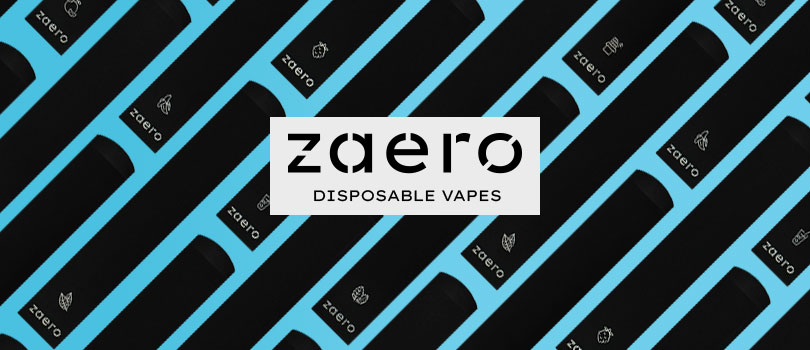 Disposable Vapes
The popularity of nic salts and vape pods has demonstrated a fundamental truth about vaping: most adults are just looking for a simple and convenient way to get nicotine. And more and more vapers are discovering that there is no easier way to vape than with a disposable.
If you haven't vaped a disposable ecig in a while and are a fan of nic salts, you are missing out. The newest generation of disposable vapes does not sacrifice flavor or performance. They have a tight authentic draw, tremendous flavor. You may also be surprised to learn they are actually more economical than the leading prefilled vape pod kit and the convenience of a disposable is not offset by a higher price tag.
One drawback that plagues many disposables is that they do not offer many nicotine strength options. Most are only available with a nic strength of 5 percent or higher. But the Zaero Disposable does not suffer from this limitation.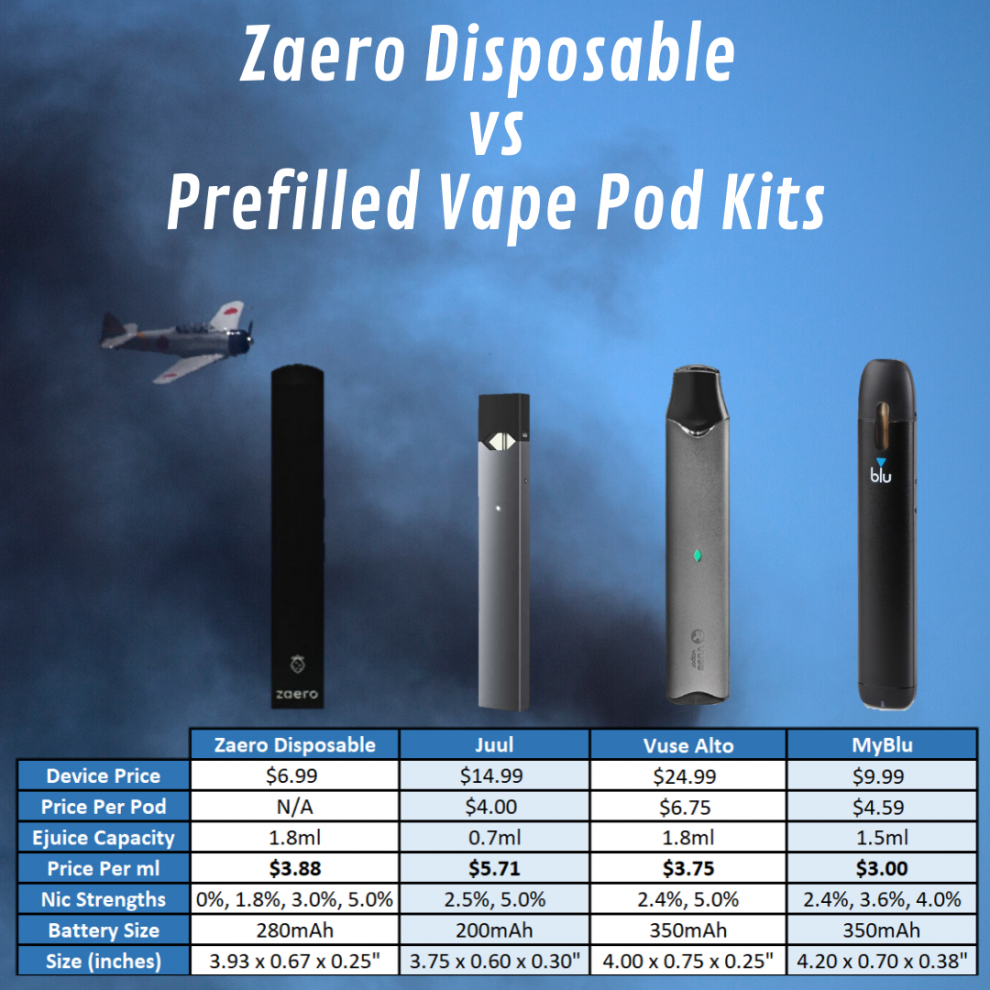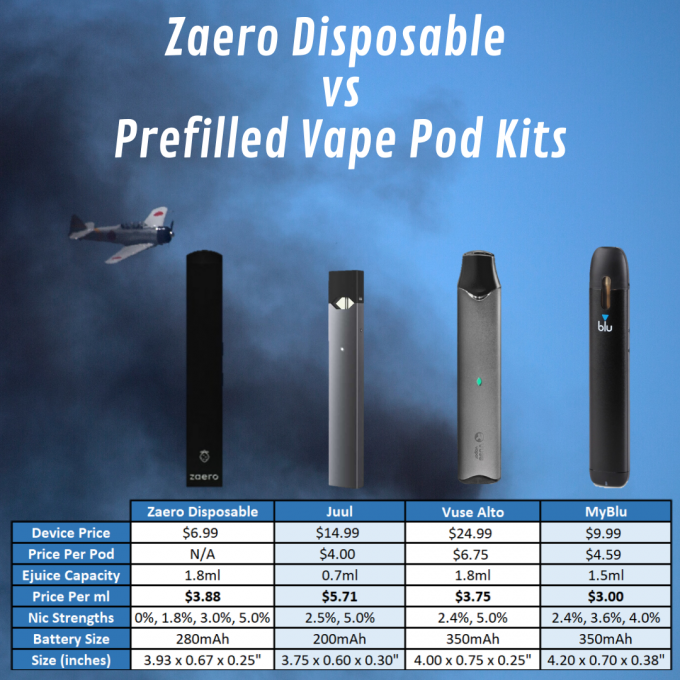 Zaero Disposable Vape
Forget everything you think you know about disposable vapes. The Zaero Disposable is a game-changer. It provides amazing flexibility for a disposable. The Zaero is available in 0, 1.8, 3 and 5 percent nic strength. But flexibility and multiple nic strengths hardly matter if the Zaero does not deliver top-tier vaping performance.  So let's take a look at the Zaero and see how it performs in the real world.
Zaero Specifications
Unboxing and vaping a Zaero is exceedingly simple. Despite being a one-time use item, the packaging is durable and high quality. The Zaero comes in a reusable clear plastic case, which is perfect for purse or pocket storage. Using the box to protect your Zaero from debris and dust is much than keeping track of the silicone stopper, which must be removed before vaping the Zaero.
The Zaero disposable is rectangular in shape. A hair under 4 inches in length and a little more than a half-inch wide, it is very compact. The mouthpiece is nicely rounded and the frame has a sturdy metallic feel. This is not a cheap plastic disposable. It has the heft and quality tolerances of a prefilled vape pod kit.
Each Zaero Disposable contains 1.8ml of ejuice. To make sure that the vape juice runs dry before the battery, the Zaero is powered by a 280mAh battery. For a point of reference, the Vuse Alto and MyBlu have 350mAh batteries and a Juul battery is merely 200mAh. There is no way to charge a Zaero but it does have an indicator light on the base.
The Zaero manages to stand out in a crowded field of excellent disposables with four different nicotine options. There is a zero-nicotine option and three different nic salt formulas. These are 1.8, 3 and 5 percent. Smokers looking to transition to vaping and vapers looking to reduce their nicotine intake will find the Zaero to be a perfect option.
Vaping the Zaero Disposable
To vape the Zaero, all you need to do is open the reusable plastic case, remove the stopper and inhale. There is no fire button. But multiple nicotine levels and a sharp appearance do not matter if the device cannot deliver the performance that vapers crave. So how does the Zaero fare when the tires hit the pavement?
The first thing that the average smoker or vape pod use will notice about the Zaero is that the draw is ideal for most vapers. It is not so tight that you have to work hard for the vaper but not too wide-open either. It strikes a nice balance and can generate a very respectable amount of vapor for a compact nic salt device.
The Zaero's biggest performance feature is flavor. The design generates a very clean, almost crystal clear, flavor. These are nic salt formulas, so the throat hit certainly isn't a throat burn. But the Tobacco Zaero has a nice kick and the Menthol a bold chill. Now it is time for a deep-dive into the flavors of the Zaero disposable.
Zaero Disposable Flavors
Zaero Sweet Orange
The Sweet Orange Zaero Disposable is a top-tier fruit flavored disposable. It has the nice citrus tang and the unmistakable flavor notes of a juicy orange. It is not an overly sweet flavor but the exhale is slightly candied. The citrus punch gives this ejuice a nice balance. If you are a fan of either orange the fruit or orange the flavor, there is plenty here to enjoy. Unlike many orange vape juices, it is relatively mild and does have an overpowering artificial orange flavor.
Zaero Banana
There is plenty of creamy banana flavor packed into each Zaero Banana Disposable. Fans of fruit and dessert vapes will find that it checks both boxes. The flavor is not too mild or artificially sweet. The cream makes sure of that. Zaero Banana is sophisticated and balanced. It has plenty of ripe and mouthwatering flavors and a superb level of smooth creaminess. The Banana Zaero Disposable never strays into "scratch and sniff" banana territory, which unfortunately is a region populated by many artificially flavored candies, gums, and banana vapes. It stays true to the natural banana flavor and makes for a great all day vape.
Zaero Tobacco
The stout and rich flavor of Tobacco Zaero is perfect for smokers looking to make the switch to vaping. This is a smooth nic salt formula, but there is a still a decent throat kick. The depth of the tobacco flavor is unmistakable and is almost akin to a cigar. You won't believe how much the Zaero Tobacco Disposable taste like a combustible cigarette. But without the smoke and ash.
Zaero Menthol
The Zaero Disposable Vape is available in some unique flavor choices but no nic salt device lineup is complete without an ice-cold mint or menthol vape. The restrictive draw of the Menthol Zaero Disposable is perfectly matched with this cooler than cool flavor. The crisp flavor tones of Zaero Menthol compare favorably with the heavyweights of the vape pod world. The exhale is particularly frigid and clean tasting. Zaero Menthol is closer to a mild peppermint than an herbal mint, with a purity of flavor that menthol smokers will love.
Zaero Blu Razz
Blu Razz is a quintessential flavor of summer. But unlike the icy blue raspberry treats, the Blu Razz Zaero Disposable can be easily enjoyed all year long. This is the type of complex and sweet flavor that adult vapers prefer. Zaero has managed to pull off a cool and refreshing flavor without the use of mint or menthol. The sweetness is not overpowering, largely due to the tart and fruity notes that are present on exhale. Despite being based on a rather sugary treat, the fruity raspberry flavor is quite authentic and lends tart notes that balance the flavor. A simply delicious flavor, fans of fruit and beverage vapes will love Zaero Blu Razz.
Zaero Blueberry Lemonade
Another beverage inspired vape that packs a flavor punch to rival the best nic salts on the market, the Blueberry Lemonade Zaero Disposable is jam-packed with flavor. A realistic blueberry flavor is present from inhale through exhale. It is layered atop a refreshing and balanced lemonade ejuice. Lemonade and blueberry are both fine ejuice flavors in their own right, but the combination of the two has more complexity and balance.
Zaero Chocolate
The Chocolate Zaero Disposable delivers a decadent chocolate flavor that is startling, and extremely satisfying, in its realism. Never cloying, bold notes of cocoa make this a supremely balanced ejuice. There is still more than enough sweetness here for dessert vapers to enjoy but the chocolate exhale prevents this from being a sugar bomb. A great chocolate vape like the Zaero is much more than a guilty pleasure, it is a great all day vape.