In the most recent APV announcements  we've been seeing not only better features being introduced, but now these PV makers are really focusing on the design. Though this is no beauty contest, it damn sure entices you to pay up. With this next PV announcement, The Billet Box, you'll notice they've obviously went with a billet look, along with using a box style in order to keep its size to a minimum – something most tube PV makers tend to struggle with.
The Billet Box
Welcome to Billet Box Vapor.  Home of the most bad ass E-cig Vaporizer on planet earth.  The Billet Box is the first E-Vaporizer to incorporate massive battery power, a huge 6.5ml E-fluid tank and variable voltage, all into one dead sexy little unit milled from billet 6061 t6 aluminum.  The end result is a dependable, sleek , solid, obscenely well crafted USA made vaporizer that needs very little attention to maintain.  So your day doesn't revolve around tinkering with fluid filling, drip cleaning and swapping batteries.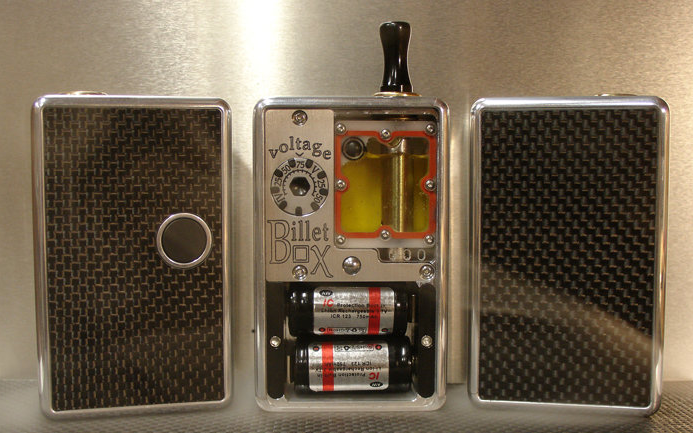 Features
Precision CNC milled 6061 t6 aluminum body
USA made Dragon Plate Carbon Fiber
Machined DuPont Delrin plastic components
Stainless Steel Ball Bearing Sliding Lock
100% FDA approved material E-Fluid Tank 6.5ml Quick Refill through Tanks ball valve
4 to 5.5 volt LDO variable output
Easy to adjust engraved voltage dial
30 day warranty, replacement part available
its a box, no phallic symbolism (sorry, had to say it)
Made in USA damn it!!!
Requires
Two 3.7 volt 16340 batteries
Punched  510 Cartomizer
Any 510 drip tip, (aka, mouth piece)
E-Fluid
Price: $179.00 USD
Interested in the Billet Box? – Visit www.BilletBoxVapor.com