New to the scene, Orgnx Eliquids seems as if it sprouted up overnight and became one of the industry's latest success stories. There is something about this brand that sparks interest and leaves many of us curious. Could it be the simplicity of its labels, the actual name of the brand, or the straightforward flavors that have the ability to pull us all in? Whatever the case may be, there is no doubt that the industry's latest craze is Orgnx Eliquids.
About Orgnx Eliquids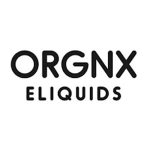 Headquartered in Los Angeles, California, Orgnx Eliquids has developed a line full of premium eliquid flavors. These flavors consist of fruity flavors (menthol/non-menthol) that are delightfully tasty and reach a broad audience. Over a short period of time, the brand has quickly grown in popularity, creating some of the best fruit flavors on the market. It uses only the best quality ingredients, and consumers all around the globe are returning with incredible feedback. Designed to satisfy vapers with a delightful taste and its mission to convert people away from smoking traditional cigarettes, Orgnx Eliquids is on the right track.
Orgnx Eliquid Flavors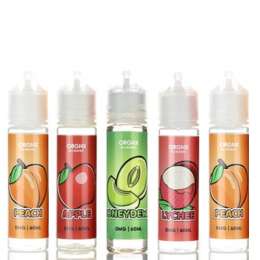 With such a remarkable line of eliquid flavors, Orgnx Eliquids and the team behind it are definitely feeling the love. In fact, at the ECC 2019 Annual Event, Orgnx Eliquids won 1st place for Best E-Liquid. The award-winning team accomplished this by introducing its hefty line of delicious, which includes Watermelon, Peach, Lychee, Honeydew, Apple, and Orange eliquid flavors.
Orgnx Eliquids Watermelon: Crafted with precision and consistency, each draw delivers the best possible vaping experience in the simplest form. Orgnx Eliquids takes the juiciest watermelons, then squeezes them until it gushes sweet watermelon flavor. It's an unforgettable experience that you won't want to be without.
Orgnx Eliquids Peach: Too many times do we see peach flavored e-liquids used in all the wrong ways. Orgnx offers simplicity in its flavors by creating something everyone else overlooked, the deliciousness that peach offers on its own. Blister your mouth with the taste of handfuls of juicy ripe peaches blended together for the sweetest vape.
Orgnx Eliquids Lychee: It's definitely a unique flavor, that's why keeping it simple and straight to the point is all that is needed with this crowd favorite. Orgnx Eliquids Lychee is a sweet and exotic lychee flavor that you're sure to fall in love with. From the moment the one-of-a-kind flavor hits your taste buds, you will be drooling with excitement.
Orgnx Eliquids Honeydew: A flavor that can only be described as sweet and delicious, Orgnx Eliquids Honeydew is one of the best flavors within the line-up. It's yet another unique flavor that has a way of capturing your oral senses into a binding spell of love. If you are a fan of Honeydew flavors, this simply made Honeydew is all that is needed to appease your tastes.
Orgnx Eliquids Apple: Recognized for its simple flavor creations that truly deliver a remarkable taste, Orgnx Eliquids Apple provides a superb taste. Enjoy the sweet and crisp taste of red apples in the vapor form. It's an eliquid that will tantalize the taste buds until your mouth is overjoyed with flavor.
Orgnx Eliquids Orange: What is better than the fascinating taste of orange, by itself? Imagine the authentic taste of an orange, squeezed until its juicy flow, then infused into a bottle of premium e-liquid. It has a way of coating your mouth while you exhale billows of flavorful vapor.