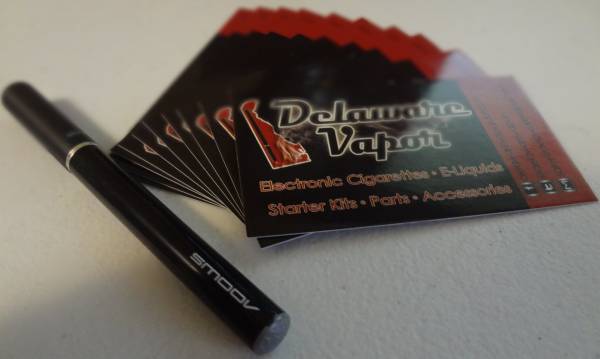 The Smoov eCig and Starter Kit has received a lot of hype, yet it's the same style and size as a stick style electronic cigarette. You might be wondering why it's become so popular and to be honest, I was wondering the same. With that being said, I was excited when Andrew from DelawareVapor.com sent us the Smoov Starter Kit for GuideToVaping's take on it. After receiving the package and before putting it through the ringer, Troop and I had a long discussion about the product. Troop believes that it could be a nice quality product, but he was unsure if it's a great device to turn a new vaper to. His doubts are mainly directed to battery life. For me, I'm aware that the problem relies on battery life and performance with a stick style battery. Trust me, just because we receive a free product for review doesn't mean we automatically like it. With that being said, I've decided to really put this device to the test.
After receiving the package, the looks of the Smoov was nice and sleek. The starter kit came with two 65mm auto batteries, 6 un-filled cartomizers, a wall charger and a USB charger. The un-filled cartomizers is a big plus. 90% of the time, the cartomizers that come with starter kits are pre-filled with awful china e-liquid, but with the Smoov kit, they aren't filled, giving you the option to choose any e-liquid to fill them with. The packaging was very nice and came in a black box with the name Smoov displayed on the front.
After filling a cartomizer with some Pearalyzing Peach, I screwed onto the carto and took my first vape from the Smoov. I was blown away at how much vapor this little discreet e-cig put out. immediately I could tell that the performance was there. I'm not too big on lugging around my daily mod when I go outdoors because of the size, so something small like this would be ideal and that great performance it produces makes it that much better.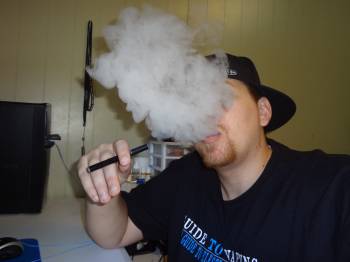 I can see myself using the Smoov for a daily outdoor vape, but if the battery life isn't there, it just won't work for me and I really don't see it working for those just getting into vaping either. With that being said, it was time to put the Smoov to the test.
What I decided to do is… I'll give it a fresh charge and vape only the Smoov through the whole battery life. I'll keep track of how many puffs I take and at what time, along with writing down when I feel a decrease in performance. Here is what the log turned out to look like. I do know this makes for a long review, but I just had to put the Smoov to the test and display my results.
Start: 5:35PM (Fresh Battery)
Puff 1: 5:35PM (Slight warmth, good airflow)
Puff 2: 5:35PM
Puff 3: 5:40PM
Puff 4: 5:43PM
Puff 5: 5:43PM
Puff 6: 5:55PM
Puff 7: 5:55PM
Puff 8: 6:00PM
Puff 9: 6:00PM
Puff 10: 6:05PM
Puff 11: 6:05PM
Puff 12: 6:05PM
Puff 13: 6:05PM
Puff 14: 6:10PM
Puff 15: 6:10PM
Puff 16: 6:10PM
Puff 17: 7:04PM
Puff 18: 7:15PM
Puff 19: 7:16PM
Puff 20: 7:16PM
Puff 21: 7:29PM
Puff 22: 7:54PM
Puff 23: 7:54PM
Puff 24: 7:54PM
Puff 25: 8:03PM
Puff 26: 8:03PM
Puff 27: 8:17PM
Puff 28: 8:17PM
Puff 29: 8:20PM
Puff 30: 8:20PM (I can tell a slight drop in performance)
Puff 31: 8:21PM (Starting to lack warmth)
Puff 32: 8:29PM
Puff 33: 8:29PM
Puff 34: 8:58PM
Puff 35: 8:58PM
Puff 36: 9:07PM
Puff 38: 9:18PM
Puff 39: 9:18PM
Puff 40: 9:18PM
Puff 41: 9:43PM
Puff 42: 9:43PM (Noticed another decrease in performance)
Puff 43: 9:44PM (Lacking a lot of warmth)
Puff 44: 9:52PM
Puff 45: 9:52PM
Puff 46: 9:53PM
Puff 47: 9:54PM
Puff 48: 10:02PM
Puff 49: 10:02PM
Puff 50: 10:03PM
Puff 51: 10:03PM
Puff 52: 10:25PM
Puff 53: 10:26PM
Puff 54: 10:26PM
Puff 55: 10:37PM
Puff 56: 10:37PM
Puff 57: 10:41PM
Puff 58: 10:42PM
Puff 59: 10:43PM
Puff 60: 10:43PM
Puff 61: 10:58PM
Puff 62: 10:59PM (Really weak at this point, I need a battery change)
Puff 63: 11:00PM (Changed Battery – ahh, new battery! warmer now)
Puff 64: 11:01PM (Great performance, nice vapor)
As you can see, the Smoov held it's ground. It performed very well and held it's performance throughout the 5hrs and 36min battery life. How's that for a stick style battery? – Troop and myself were amazed at the battery life and the performance of the Smoov. Just as a note, throughout that time, I only used the Smoov. The only thing I wasn't big on was the lack of warmth. My daily PV is a LavaTube that I keep at about 4.5v-4.7v, so the warmth is a big thing for me. If I were to actually use the Smoov on a daily basis, would it work for me though?
Today my son had a baseball game and I decided to bring along only the Smoov. I brought my Smoov, an extra battery (just in case) and a small bottle of e-liquid. The Smoov was small enough to fit in my pocket with no problems and satisfy me throughout my time at the game. I didn't need the second battery and in fact, I was still using the Smoov once I got home. Outstanding battery life!
[youtube id="7TaFCkTT-84″ width="600″ height="350″]
If you like this video, Tweet and G+ this link with hashtag #ImSmoov
Overall: The Smoov E-Cigarette works great, the performance works well, the vapor production is awesome and the battery life is much better than a typical stick style e-cig. And, the name definitely brightens your day (lol). If you're looking for a quality starter kit that won't let you down, visit www.DelawareVapor.com for the Smoov Starter Kit.