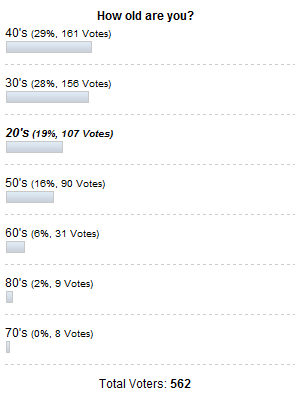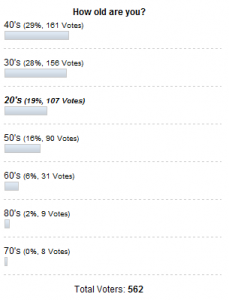 As you use your electronic cigarette daily, you see how quickly these devices became popular. You begin to wonder who else is using them and how many. Those answers have come to life as you've been scrolling around on the interwebs and getting social, this leads us to the next question you might be pondering… "How old are the majority of vapers?"
We certainly can't answer that for the U.S., let alone the world, but we can give you results from the GuideToVaping viewers. In our latest poll, we asked you how old you were and within a 65 day time period, we had 562 voters that participated. 15 votes were casted by registered users, 16 votes were casted by comment authors and 531 votes were casted by guests.
As you can see in the results picture, the majority of our viewers are in their 30's and 40's, but those in their 20's aren't too far behind. We had a nice turn-out for those in their 50's, which isn't too far behind either. One thing that I've really enjoyed about doing this specific poll, is that it shows you electronic cigarettes aren't subject to one age group.  Those of you who are in your 50's or above, I applaud you. You knew it wasn't too late to switch to this alternative and I think we should only spread this information and encourage others.
Thanks to all of you who participated and supports GuideToVaping.com