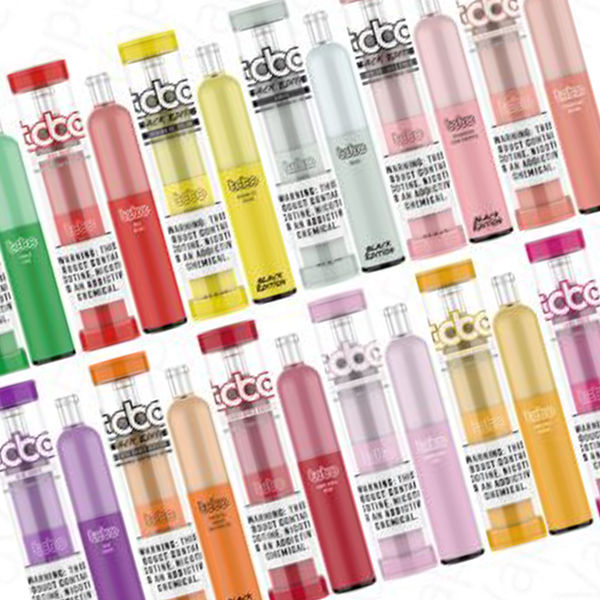 As the industry continues to shift, disposable vapes are lighting up the market with a variety of designs, shapes, and mouthwatering flavors loaded into each one. The latest to join this growing collection is the TOBO LED Disposable Vape, a disposable vaping device that offers a unique design, as many as 2500 puffs per unit, and 11 delicious flavors to enjoy. Please, give us the opportunity to tell you all about it!
TOBO LED Disposable Vape
This thrilling new disposable that just landed on the market is quite an interesting addition, boasting a unique design, which is compact and easily fits the contour of your palm due to the curvature of its outer shell. Within the device rests an integrated 1250mAh battery that provides extraordinary performance and just enough life to ensure you enjoy all of its flavorsome contents. In addition to insides, the TOBO Disposable Vape musters up a large 6.5mL capacity, which is loaded with 5% (50mg) of salt nicotine and your choice of as many as 11 tasty flavors. The TOBO LED Disposable Vape continues by offering a draw-activated firing mechanism, a soft mouthpiece, and an LED indicator. Pre-charged, pre-filled, and primed for your vaping pleasure, the all-new TOBO Vape Disposable should be the next vape to your rotation of all-day vapes.
TOBO Disposable Vape Flavors
There are 11 flavor options to choose from in the lineup of TOBO Disposable Vapes. You can experience a complex blend of Tangerine Mango Watermelon or explore the depths of a recreated energy drink flavor, such as Bull Blast. With several flavor choices, you are sure to find a new vape to call a favorite.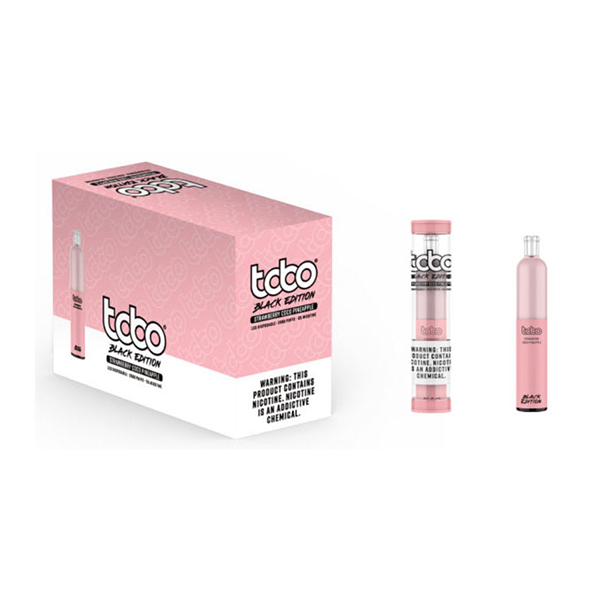 Strawberry Banana
Explore the perfect blend of strawberries and bananas with this masterfully crafted blend. From the first puff to the last, your tastes will be overwhelmed by the amazing flavor that continues to linger.
Aloe grape
Enjoy a light and crisp taste every time you take a puff from this special flavor profile. It is definitely one to consider as it coats your taste buds will loads of delicious flavor while creating the smoothest vaping experience.
Banana Ice Cream
There is nothing more pleasing than the banana flavor. However, when you combine it with a cool and silky ice cream blend, it gets even better. Enjoy the thick and creamy taste of this recreated banana ice cream flavor.
Banta
Bringing you the most amazing flavor, this one offers a puzzling experience that will leave you with more questions than you started with. It offers an amazing vape from start to finish, ensuring you're more than satisfied.
Bull Blast
Enjoy the fizzling taste of your favorite energy drink. This recreated beverage is one of the most unique flavors, yet it has been recreated perfectly. If you crave that bull flavor, you can now enjoy the taste in the vapor form.
Candy Apple Krisp
Allow your taste buds to go on an adventure with this delicious concoction. It offers a soothing taste of apples with a candy finish like no other. Each puff only entices you that much more to take another puff.
Lush Froze
Experience a vape juice blend that has become an industry classic, boasting loads of delicious watermelon flavor that have been combined with menthol. It creates a deliciously cool and refreshing vape from start to finish.
Strawberry Coco Pineapple
Boasting a complex taste, there is nothing more satisfying than this tasty trio of flavors that have been thrown together. It brings you the magnificent taste of strawberries, coconuts, and pineapples to create a tropical vape.
Strawberry Kiss
Designed to coat your tongue and please your tastes, this perfectly crafted blend recreates that fizzy strawberry flavor from your most favorite energy drink. It is an extraordinary flavor experience from beginning to end.
Tangerine Mango Watermelon
Embark on a heroic journey with this masterful creation of flavors and save the day for your taste buds. This trio of flavors consists of tangerine, mango, and watermelon flavors, offering the smoothest, most enjoyable vape ever.
Power Mint
Ready yourself for a powerful mint flavor unlike anything else you've experienced. This tasty treat of a vape will surely freshen your mouth and leave you with a deliciously sweet and cool flavor of mint.