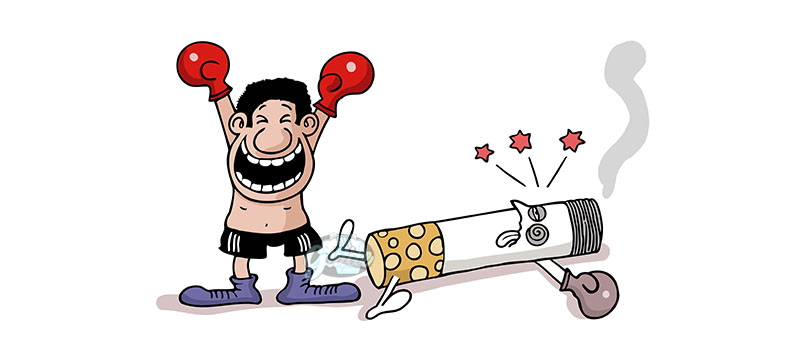 We're quite aware of the difficulties faced for new vapers trying to quit smoking, so we've decided the best fit for our next addition to our Basic Information Vaping Guide would be to touch base on those still trying to quit smoking by taking up vaping. We urge you to look over our top 5 tips for new vapers trying to quit smoking, as we feel this information is highly vital for those who are really serious about quitting smoking, once and for all.
My name is Blake Brown and I've been a vaper since 2011. I have been super successful in transitioning to the vaping lifestyle and ever since I've become a vaper, I've spent each year devoting my life to helping others with unique, detailed, and very helpful articles about vaping just like the one you're reading now. Please help me further the reach of these articles by sharing them with your family and friends on social platforms. Your help and sharing power is much appreciated!
---
1. Keep An Open Mind
The world of vaping can open the doors to many new possibilities. It's changed my life in so many ways, but there was a time when it wasn't exactly the thrill I had hoped for. In fact, when I first decided to quit smoking and bought my first e-cigarette, I transitioned over to vaping quite easily, but like with anything new, it was all confusing, I didn't know how everything worked, and my lack of experience and the introduction to such a huge change left me puzzled and lazy to the fact that I had to actually research this new alternative to smoking.
Vaping is still new to many, and that's why I feel like keeping an open mind to this new world is a high priority. Understand that you will change, your taste buds will change, the way you reach your nicotine satisfaction will change, and things may not be quite as easy going at first as you had imagined. Vaping requires a lot of fiddling with small parts (although new devices and technology has started changing that), things can get messy at times, and everything doesn't always work flawlessly. We recommend that you keep an open mind, give it a real chance, and understand that there is a small learning process to this new endeavor that offers the best results possible to help you quit smoking, forever.
2. Determination Is Key
Determination is one of the most important key factors when it comes to new vapers trying to quit smoking. Dealing with small and unfamiliar parts, liquid that's "icky" and coats your hands creating a mess, along with buttons and settings that you truly aren't sure what exactly they do, can all be overwhelming and could lead to you just wanting to give up on the whole process of trying to quit by vaping. I mean, we can all agree it's just so much easier to pull a cigarette out the pack and light up. It was designed to be easy, that's just one of the many things that lead to you picking one cigarette up after another. At first due to the lack of experience, vaping can seem as if there is too much to learn and it's not worth the bullshit involved like a leaking tank or bad coil, but it truly is worth it. Over time you'll begin to learn more about these devices, how they work, and avoid many of the common issues found by new vapers. Don't give up, fight through it, learn about the device that is about to save your life, and keep your determination high, because you can and will do it.
3. Cheap Starter Kits Are The Best Route
When you first enter into the world of vaping and you're trying to quit smoking, don't be fooled by overpriced products with overly hyped claims. The best thing you can do starting out is to buy yourself a cheap starter kit, because it's truly the best route to take. Granted, there are some very nice products that promote great quality and a superb performance, but you must know that all of these products will operate in the same way — some may operate, function, and perform better than others, but for the most part they vaporize e-liquid exactly the same.
You don't have to start off by spending butt loads of money or paying for the highest priced kit available, a cheap vape starter kit will be perfect not only for someone that's new to vaping, but even as a more experienced vaper, a cheap one will do just fine. To give you a clear example, I was at a local business earlier today and the sales guy asked what I did for a living. I told him, he let me know that he's been interested in quitting smoking and wanted to start vaping, but he wasn't sure what to buy, and the prices he's seen were high. I sent him to this site and showed him the iStick Pico Kit and told him something as low as $36 would be great, and will have enough power available even for the future when he gets more experience under his belt. There are so many local shops, kiosks, and gas stations that tag a high price to these products that it's discouraging smokers from picking up vaping. However, any of you that have made your way this far into this article and you're that serious about quitting smoking, all it takes is the 'want' to stop smoking, and buying a cheap starter kit to help you achieve that goal of quitting smoking for good.
4. Your Satisfaction Should Stay Top Priority
Once you start vaping, always remember that your satisfaction should stay a top priority. If you're confused by what I mean, I'm saying that you should never let your budget or anyone push you away from satisfying yourself to the fullest. For an example, you recently bought a new starter kit and your coil is beginning to get burnt out. Instead of replacing the coil with a new one, you decide to keep the same coil installed and continue to deal with the foul taste it produces just so that you don't use another coil or have to spend a couple dollars on a new coil. Doing this will not leave you satisfied, and though I understand many of you are on a tight budget, your unwillingness to spend a couple dollars and hold out as long as possible could potentially push you away from vaping all together. Vaping is an alternative to smoking, it was designed to deliver the satisfaction of the inhale, the nicotine, and flavor, but without the over 4,000 chemicals being stuffed into a single tobacco cigarette. Take advantage of this alternative, never sell yourself short of what you deserve, and remember your satisfaction should stay a top priority. You'll enjoy vaping much more.
Here's another story for you: a long time friend of mine started vaping when I did, but he's one of those types that even though he has money, he stays on a budget and gets frustrated when he has to buy coil after coil, more liquid and more liquid. Yea, I know, I keep telling him that's apart of it all and nothing will be free. Anyhow, he would stick with the same coil for over a month, he would stay with the same e-liquid brand and flavor because he got more e-liquid for the price, and I continued to tell him that he should explore his options more, because there are so many more flavors available, so many more brands that he would enjoy more, and changing that coil out would increase his pleasure of vaping. I mean, while you're vaping, why not make the most out of it right? That's like buying a brand new car, but not wanting to drive it because you're scared to put miles on it. He eventually gave in, especially after I sent him a new TFV8 Baby Beast Tank and some popular e-liquid. He now runs through e-liquid a little faster, he's getting a little less e-liquid for the same price, but it seems as if he's fallen in love with vaping all over again. If any of you are ever on a budget, please feel free to contact me and I'll do my best to find you the best deal possible to help you save.
5. Continued Vaping Is Not Required
Continued vaping is not required — what I mean by this is that once you start vaping, that doesn't mean you have to continue to vape, you can stop at any time. Know that as someone quitting smoking by starting to vape, there's nothing in the rule book that says you have to continue vaping forever. Vaping is simply a harm reduction tool, so if you want to quit vaping and won't go back to smoking traditional cigarettes, then that's totally fine. Yet another story time for you — my Wife and I started vaping at the same time, in 2011. Just because I vape or that I'm heavily involved with vaping and the lifestyle, that doesn't mean she's required to continue vaping. With that said, these days she no longer carries around a mod, and every once in a while she'll use my device (hey, that's just more liquid for me!!).  It's really simply, she vaped for as long as she thought she needed to, and over time she just didn't want to do it anymore, so she stopped, and there's nothing wrong that at all. What we want here is for you not to smoke cigarettes, and if you think you can stop vaping without going back to them, then so be it. I continue to vape because I truly enjoy it, and I have no desire to stop anytime soon.