The competition is thickening in the disposable market, especially with the launch of the all-new Trip Cloud Pen Disposable Vape. It is a new device that is fresh off the assembly line, packing the looks and features that will propel this brand to success with ease.
There are tons of disposable vape pens on the market today, and though their design and functionality are similar, not all of them are created equal. This is a disposable vape pen, which is different from regular vapes, requiring no recharging or refilling. Sure, the Trip Cloud Pen Disposable Vape has a long road ahead of itself, but it can be a smooth ride for this exciting brand if everyone takes to the phenomenal flavor blends it has created as it expects. Whatever the projected outcome, we're certain there are many of you out there that will fall in love with the Trip Pen and what it has to offer.
Appearance Isn't Everything But It Helps
It's true. Appearance isn't everything, but it certainly helps when the device looks appealing to the user. The Trip Cloud Pen Disposable Vape looks stunning with its sleek and slender profile. The compact device is very portable, allowing you to easily toat it around on your person, stuffing it in small places like a pocket, handbag, or toating it in the palm of your hand isn't even a hassle. It feels great to hold and feels even better on the lips due to its ergonomic mouthpiece.
Trip Cloud Pen Features
Packing a hefty internal battery that doesn't need to be recharged, this outstanding disposable vape device allows for as many as 500 puffs. It also offers a 2.0ml vape juice capacity. It uses salt nicotine vape juice that is infused with complex and very delicious flavors to deliver the best taste experience. There are currently three different flavors to choose from, including Jungle Juice, Frosty Mango, and Cotton Candy Ice.
Trip Cloud Pen Flavors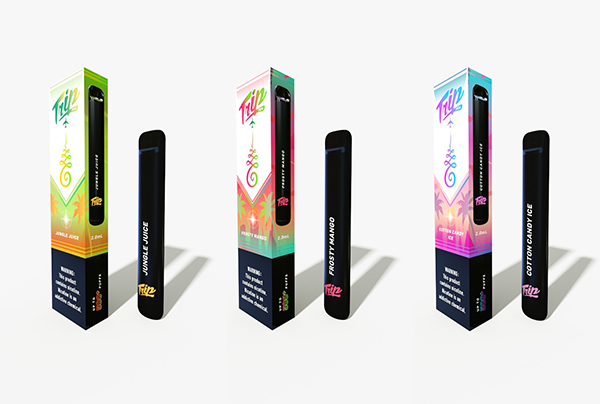 Jungle Juice
Blasting with delicious taste, the Jungle Juice flavor has been expertly crafted to deliver everything you love about vaping, lots of flavors! It consists of a highly complex blend of flavors. It includes luscious melon, juicy pineapple, and tasty slices of ripe banana. The trio of flavors makes for an exciting, exotic taste that you are sure to remember.
Frosty Mango
Undergoing extensive trial and testing, Frosty Mango has proven itself to be one of the market's newest, most exciting flavors. It offers a delicious taste of Mango from start to finish. The flavor is then completed with a dash of cooling menthol to ensure you and your taste buds are left pleased and refreshed.
Cotton Candy Ice
While there are certainly many flavors on the market, there isn't anything quite like the Cotton Candy Ice flavor. It is the first of its kind, infusing an ice-cold touch of menthol with a delicious cotton candy flavor that your tastes could only dream of until now. You experience a delightful candied taste and the refreshing taste of menthol that we're sure will leave your mouth excited and refreshed enough for another round.