If you are wondering which brands are considered the best, you may want to turn your attention to one of the up and coming best vape brands of 2020, Moti Vape.
With the competition thickening, everyone is in a race to become the industry's latest and greatest brand. Manufacturers and brands alike are dishing out their most innovative products of the year to stand out amongst a rather large crowd. Though everyone's out to get theirs, Moti Vape is already standing above many, making it one of the best vape brands of 2020.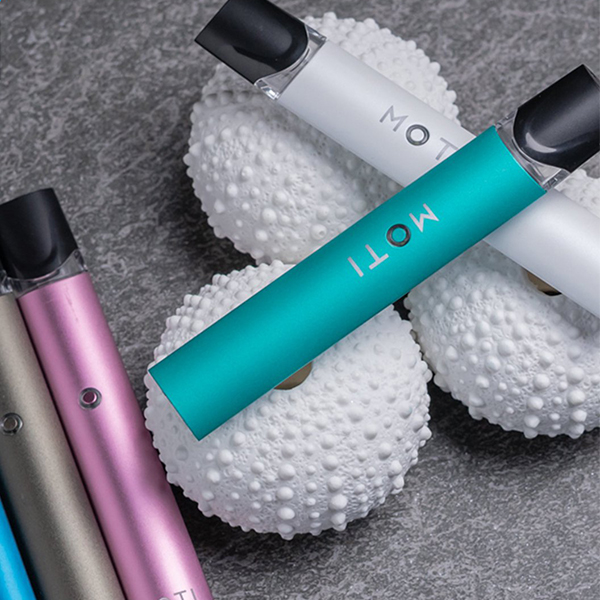 It begins its industry presence by presenting a fascinating website that has state-of-the-art navigation and functionality. Throughout its website, you will discover a display of great appeal, boasting custom pointers, video backgrounds, and overall stunning visuals. The appeal stretches to its collection of products, which includes the Moti Piin, Moti One, MT Go, Moti S, Moti Mojo, and the original Moti. Each device delivers appeal, a sense of class, and a striking design that flows seamlessly with the theme of its site.
---
Moti Vape Product Collection
The Moti Vape collection consists of everything from full vape kits to disposable vapes. The list of vapes from this exciting brand allows you to find the perfect device no matter your experience level, from beginners to the most advanced. Discover the latest Moti Vape collection:
Moti Piin
The Moti Piin is a disposable vape device that comes in different colors to display your personality, and multiple flavor options to please your tastes. It has a cylindrical shape, it's very portable, and it's easy to use. It comes pre-charged and pre-filled with 1.6ml of salt nicotine e-liquid.
Mojo
The Moti Mojo is a perfectly crafted disposable vape that has a 1.2ml e-liquid capacity using salt nicotine e-liquid. You can enjoy up to 12 different flavor options, ranging from tobacco to raspberry. The device stands just 3-inches tall and requires nothing from you to start vaping; no refilling or recharging. The Mojo comes pre-filled and pre-charged and ready to vape.
Moti One
With an awesome design, the Moti One pod system delivers stunning looks. It features innovative Meta Tech heating technology to deliver a smooth, consistent experience. it allows you to adjust wattage and boasts one of the easiest and most simply convenient filling mechanisms on the market.
MT Go
The MT Go is one of the Moti brand's latest innovative products to release very soon. It features a cylindrical shape and is very portable. While its features remain hidden for now, we assume the MT Go will be the highlight of the market upon its release.
Moti S
With a slender pod-based design, the Moti S is incredibly appealing and comfortable to hold. It is full of technology, boasting features like Bluetooth capabilities, which allow you to adjust the temperature directly from your phone, monitor usage, and puffs, and the Moti S is even capable of being tracked if you somehow lose track of it.
Moti
Standing 115mm by 20mm by 10mm, the Moti Vape is a compact device that features a cylindrical shape and is very portable. With its user-friendly design, the Moti offers incredible features such as a draw-activated firing mechanism, a 1.8ml e-liquid capacity, 1.2-ohm to 1.5-ohm resistance, and a long battery life
---
Distribution spans across the world with a list of partners. The Moti brand has partners in Europe to South America and in between. Moti cares a great deal about the vaping community as well, sharing informative blogs, news, events, and it also has a stop smoking campaign.
The Moti brand is considered one of the best in the industry and you can find their products in their store and in some of the most popular vape stores.