The word "Vape," a word brought to light by our latest electronic cigarette craze, is gaining even more exposure after Oxford Dictionaries named it the word of the year.
If the electronic cigarette industry worth doesn't tell you how much vaping has finally become apart of our society, then the word Vape being Oxford Dictionaries word of the year should do the trick. This news speaks volume in the impact vaping has created and only adds to its growing presence.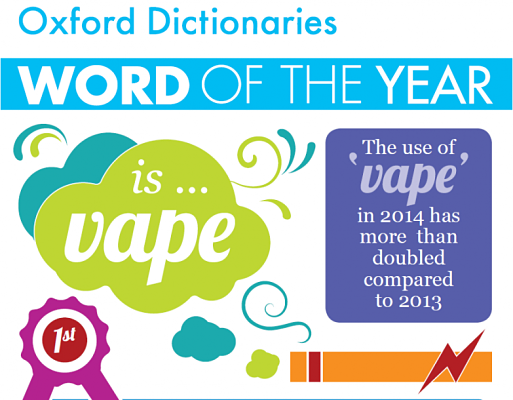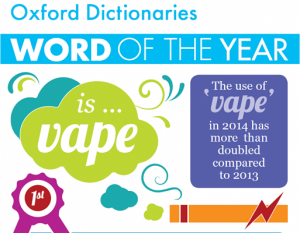 Despite the backlash that vaping has received over the course of its lifetime, there's no doubting that the term and the act it stands for is here to stay.
Though the word Vape was the sure choice for this year's word of the year, Oxford Dictionaries had a few others under consideration as well. Those words included Budtender, which is a word that describes a server in a cannabis dispensary or shop. Other considered words include bae, normcore, and indyref.
What's quite interesting about this is that the word wasn't just picked by some random person. Words of course can be submitted for consideration by Oxford Dictionaries editors, and the final choice will be up to the editors, lexicographers and other staff members, but there are other ways to find that number one word, the word most used and the word that will take Oxford Dictionaries word of the year position – and that's from software. The software used scans the web for emerging words, changes in word usage, and shifts in frequency. With that said, Vape was quickly a top contender throughout the considered words since the software showed that its usage has doubled in the past 12 months, which hit its peak this year in April.
Cool, interesting?  Yes!
The now, even more recognized word for electronic cigarette use, joins previous winners like selfie, gif, and unfriend. These words aren't necessarily the words of all words, but those behind Oxford Dictionaries, and its software, feels that the word of the year did capture a specific moment or created a trend. Last year, Selfie was named the word of the year.
These words, though named the word of the year, doesn't exactly mean they'll be added to the OED (Oxfords English Dictionary). The announcement of the word only highlights it, showing that it has risen to a prominence in the past year. For the word to actually be added to the OED, it must meet strict criteria demonstrating that it is a lasting part of language. However, the word Vape will be added to The Oxford Dictionaries Online, which receives frequent updates to include common slang and does hold all sorts of language fads.
I'm sure once the word Vaping gets a few more year's under its belt, it will be listed on the OED.