The Vapor Flask has been on my mind ever since it hit the market.  For some reason, the old fashion flask look intrigues me, and I was eager to have it in my hands one day, but an authentic Vapor Flask just didn't fit my budget.  This is why I became more than excited when I learned the Vapor Flask was being sent this way for review.  When it arrived, it was exactly as I expected, smooth to the hand, felt comfortable in the palm and still carried over that consistent vape you find when using a DNA40 chip, even though the chip nor the device itself isn't authentic.  Feel free to watch our Vapor Flask V3 Clone Review or read it, as always!
(I received the Vapor Flask V3 Clone from Gearbest.com)
Appearance
The Vapor Flask V3 Clone comes in an ordinary run of the mill box you find most cloned devices being packed in.  It has the name of the device printed on the front, a picture of the actual device and it includes that the Vapor Flask V3 has Temperature Control.  On the backside of the box is a bit of information, most of which was overlooked as it wouldn't tell you or I anything we didn't already know.  Inside the box is the device itself, just underneath it is a pamphlet telling you all about the device, which has some useful information, especially if you've never used a DNA40 style device.  Below that was a nice little black felt type bag to put your flask in and store it if need be.  And, at the bottom of the box is a micro-USB cord for charging.
Quality:  To be a cloned mod, I could have received something worse.  However, the Vapor Flask V3 Clone that I received had me impressed.  The threading on the battery caps and the 510 connection were smooth, not butter, but definitely smooth and easy to use.  Being that the Flask is made of aluminum, you would expect the device to be very light, and it is… but of course the two 18650 batteries help deliver that weighted feel so that you don't get the feeling that you're holding a toy.  The screen was just as good as any other DNA40 device, so all in all I'm pleased with the quality.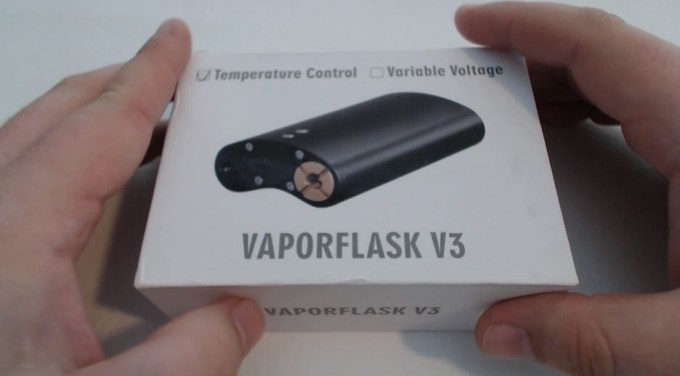 Features
The Vapor Flask V3 Mod is run by two 18650 batteries that are inserted from each side on the bottom of the device.  The battery caps do sit flush, but you'll need a coin to unscrew the caps.  The device is made of aluminum and has a black smooth painted finish, but feels really comfortable in the hand due to its smooth texture and overall shape.  The Vapor Flask V3 can run up to 40 watts, which is a pleasing amount of power if you build your coils specifically for a 40 watt mod.  Remember, build high, run low.  But what really makes this mod the monster that it is, is the temperature control feature, which is what the DNA40 chip is most known for.  Though this DNA40 chip is just a mere clone, it still acts and performs just as an authentic (I have an rDNA40 to compare with).
0.75 Inch Screen
Variable Wattage: Can be adjustable from 1w to 40w
Check Atomizer Feature
Low Battery Warning (below 4V)
Short Circuit Protection
Overheat Protection
Atomizer Resistance: 0.16 – 2.0ohm
Powered by 2 x 18650 batteries (not included)
8 battery vent holes on the bottom caps
510 Threading Connection
Adjustable Brass Center Pin
Temperature Control: 200F to 600F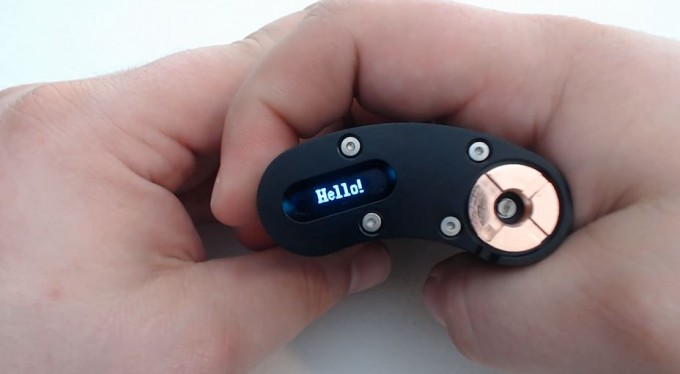 Performance
Much like any DNA40 device, the Vapor Flask V3 performs outstanding.  I truly love DNA40 devices, because they have this consistent vape each and every puff.  There's no delay, it's just straight power delivered immediately and it's solid throughout, no dips or drop offs.  The temperature control is top-notch, just as an authentic DNA40 device, so you can expect the same performance out of the flask… without the large price tag.  Another thing I should definitely mention is that with it being powered by two 18650 batteries, you'll get a long period of time using the device even if you're maxing it out at 40w.  There's nothing to complain about, it looks great, feels great and performs outstanding!