A name that has become greatly recognized for its innovation and ability to deliver high-performance products is Vaporesso. They've brought us several outstanding products that are very memorable, and the Vaporesso GEN 220W Mod is now being added to that list. It's a device that looks outstanding, performs exceptionally well, and boasts incredible quality. It simply doesn't get any better, and that is what we're here to tell you in this Vaporesso GEN 220W Mod Review!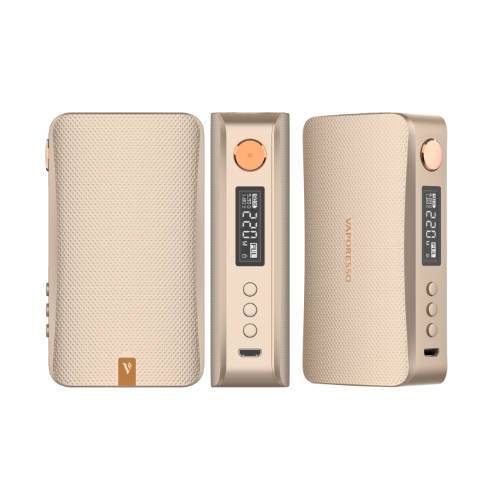 Appearance
The Vaporesso GEN Mod looks flawless, featuring a simplistic, curved design in the traditional box mod shape. It's available in a full black, black-blue, black-red, silver, gold, purple, and green. We received the gold version, which looks elegant and very sophisticated. On the side of the device is where the control face is, and immediate at the top is a large round firing button, just below is the OLED display screen, below that is two adjustment buttons, and then resting towards the bottom is a micro-USB port. What really sets this device off is its dimpled pattern stretching the body of the device and the soft touch rubberized coating. The quality plays a big role in this device as well, as it uses a zinc alloy material to ensure both great durability and a solid look.
Features
When it comes to the features of this device, it doesn't get any better than having the ability to house a set of dual 18650 batteries for great battery life and performance. It utilizes the AXON Chipset, allowing it to reach up to 220W and fire down as low as 0.03-ohm resistance. The device comes with several features, including a power mode, power eco mode, temperature control mode, pulse mode, and it is compatible with nickel, titanium, and stainless steel wire while in TC mode. The battery door is magnetic to ensure your batteries stay in place and to deliver a solid level of protection, there is a full protection suite in place, which includes short circuit protection, burn protection, no-load protection, overtime protection, low resistance protection, overcharge protection, ESD circuit protection, and pass-through protection.
Performance
The performance is as you would expect from any device that can deliver up to 220W. However, you can expect more from the Vaporesso GEN Mod, as it sports the AXON Chipset. The AXON Chipset can handle many tasks, such as calculating puffs, offering many modes, displaying vital information, and protecting both you and the device. It does this while deliver a solid amount of power that is consistent and reliable. If you want a device that can dish out the power of even the lowest of resistance options, the Vaporesso GEN can do it, and it can do it in style too.
Included With The Vaporesso GEN Mod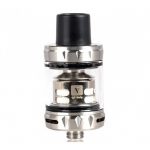 Included in the Vaporesso GEN Mod Kit is the Vaporesso Skrr-S Tank. It is a tank that is constructed of stainless steel and uses pyrex glass reinforcement for its tank. The tank offers a large 8ML e-liquid capacity with the pre-installed bubble glass.  At the top, there is a wide bore resin drip tip, and just below is a threaded top fill design that makes refilling the tank super easy. At the bottom of the device, there is adjustable airflow control slots, which allows you to easily fine-tune your vaping experience, balancing both the flavor and vapor production. The tank comes with a pre-installed 0.15-ohm QF Strip Coil and also includes a 0.2-ohm QF Meshed Coil, which both offer an outstanding experience.