If you're looking for a Vaporesso PodStick Starter Kit Review, you've come to the right place. We have the device in hand, we're very experienced with breaking a device down and examine each and every complex part, and we're willing to share our first-hand thoughts about this interesting pod system from one of the industry's leading brands.
While it isn't new to the world of vapor pod systems, Vaporesso has been one to hold off slightly compared to other manufacturers when it comes to pod system development. If you can remember to a time not long ago, it developed and released the Zero Pod, which was a simple, traditional pod system with enhanced design elements. It seems Vaporesso has been holding out to release its next big hit to the convenient world of vape pods with the introduction of the Vaporesso PodStick Starter Kit, a pod system that takes on a cylindrical shape of a mod, comes equipped with a mesh pod, 3 power modes, and has quite the hefty chip inside to perform any task at hand.
Vaporesso PodStick Starter Kit Review
In this article, we review the new Vaporesso PodStick Starter Kit, a device that was sent to us directly from Vaporesso themselves. We've reviewed several products from Vaporesso in the past, and we're especially interested in taking a look at this PodStick and sharing our thoughts since it takes on a slightly different approach to design than many other products that are being released onto the market by other manufacturers. Here are our thoughts…
Appearance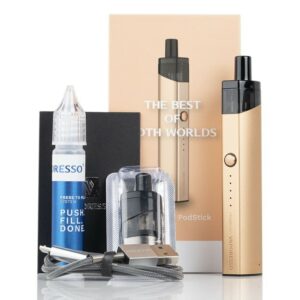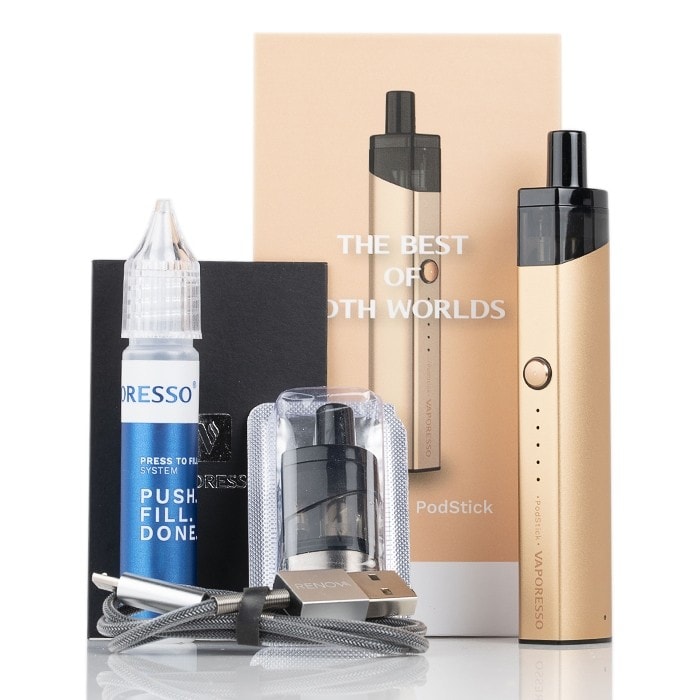 The appearance of this device is one worth speaking on. It takes on a cylindrical shape, that similar to a mod or mechanical mod that was once a popular design era in vaping. The device stands 111mm tall, just 22mm wide, and has a depth of just 18mm. It isn't exactly large, but it isn't quite the standard size of a pod system we're used to seeing. Despite the size, the PodStick looks outstanding, for what it is. It uses aluminum and PCTG material to make up its chassis. On the outside, it features an intuitive firing button and also has an LED battery life indicator that features five levels. You can obtain this device in several different color options to fit your style, such as silver, black, blue, gold, phantom, and splashed.
Features
When it comes to the features, there was a lot that went into this pod system. First off, it utilizes the OMNI Board Mini Chipset, which is more than capable of handling any task at hand. However, the only tasks required, which it takes on very easily, is pushing out a solid performance using 3 power levels that are marked red, blue, and green. These power levels can be adjusted and are easily achievable with an integrated 900mAh rechargeable battery.
This device is a pod-based system so it uses a pod that has a PCTG construction and a 2ML e-liquid capacity. The pod is replaceable, and just as convenient as any other due to the patented press-to-fill (PTF) refill system that makes refilling the device a breeze. The coils that it uses boosts the performance of the PodStick, making it one you'll definitely want to experience. It uses the Vaporesso PodStick Coil Series, which allows you to reach upwards of 22W.
Performance
The performance is in-tune with the rest of the device. It was all designed around excellence, and we're sure when you use this device you'll feel the same way. Using the PodStick Coil Series, you'll have access to a 0.6-ohm Meshed Pod that is rated for 17-22W and a 1.3-ohm CCELL Pod that is rated for 9-12.5W. Depending on the type of performance you want, you can not only change the pod but you can also adjust the power to fit your needs.
Conclusion
While this isn't a device that will end all others, it is one that you should consider, if you like its cylindrical shape. It is definitely something out of the normal, but then again, it takes on a traditional appearance that vapers have been attracted to for quite some time.
What Vaporesso has done here was take the shape of a device that vapers are familiar with and adopted the convenience of a pod system, mixed them into one and integrated a chip, battery, and features that would change how we vape for some time to come. If the shape intrigues you, and you're looking for a convenient pod system to use, we suggest turning your attention to the Vaporesso PodStick Starter Kit.