If you are aware of the Vaporesso brand, we bet you've seen your fair share of fascinating products that this brand develops. They've introduced some of the most iconic mods, ground-breaking tanks, and they've pretty much have had their hands in every sector of the market. There is no doubt about it that Vaporesso is a leader amongst an industry that continues to blossom no matter its struggles.
One of its latest releases is the Vaporesso Swag 2 Starter Kit, an improved upon and updated version of the original Vaporesso Swag Mod. The Swag series has definitely come along way, and this new device and tank combo is a clear indication letting you know just that. If you're ready for Vaporesso's next best thing, it's here. It comes in a small package but delivers extraordinary power.
The Vaporesso Swag 2 Starter Kit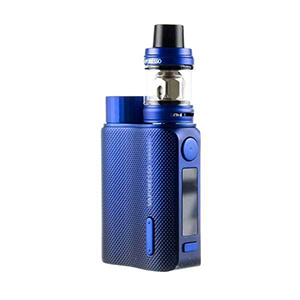 Standing just 125mm by 50mm by 25mm, the Swag 2 doesn't rest that tall. In fact, it is a compact device, yet still makes room for a single 18650 battery. The device is constructed of a zinc alloy chassis and even features a rubberized coating to improve both durability and comfort.
On the outside, everything looks clean, precise, and there is absolutely no room to complain. It boasts four color options, including silver, black, blue and red, all of which look stunning. On the device, there is an intuitive firing button, two adjustment buttons, and a 0.91″ OLED display screen that makes viewing data and making adjustments easier than ever. To power the Vaporesso Swag 2 Mod, it uses the AXON chipset, which gives it the ability to support resistances as low as 0.03-ohm and deliver as much as 80W in power output. It offers incredible features, such as a Pulse Mode, allowing a stronger output with each draw.
Coupled with the Swag 2 Mod is the Vaporesso NRG PE Sub-Ohm Tank, which sports a 25mm diameter, stainless steel, and pyrex glass construction, and is available in silver, blue, black, and red colors to match the respected mod that it comes with. The highlights of this tank are the 3.5ml e-liquid capacity, the threaded top-fill system that makes refilling a breeze, its dual slotted bottom airflow control ring, and the included 810 Delrin drip tip.
Where the performance comes into play with the use of the Vaporesso GT Coil Series, which consists of the 0.15-ohm GT4 Mesh Coil that is rated for 50-75W and the 0.5-ohm GT CCELL Coil that is rated for 25-35W. These two coils, though very different, provide an extraordinary vaping experience filled with luscious flavor and dense cloud production with ease draw.