Featuring a small footprint, a minimal design and based on an all-in-one platform, the all new VaporFi Air 2 Mini Vaporizer has plenty to offer, including a reasonable performance offering. It's truly one of the best on-the-go devices available on the market, and as more users adapt to the idea of trading in mods for small pods, the realization that this ultra compact kit is suitable for both beginner and more experienced vapers becomes more apparent.
CHECK OUT THE VAPORFI AIR 2 MINI HERE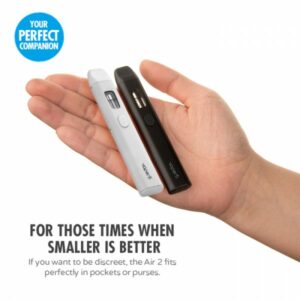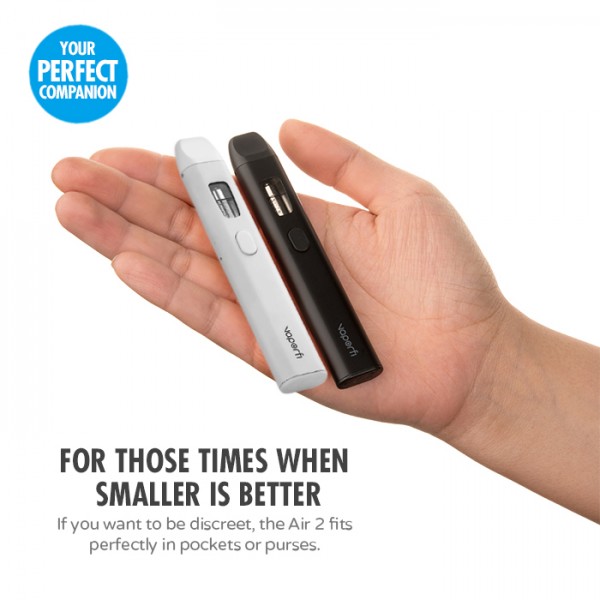 The VaporFi Air 2 Mini boasts a sleek, yet minimal design while maintaining the convenience of an all-in-one platform, combining both the built-in battery and tank into one unit. Before I lay out its full features, I want you to keep in mind that this kit has been designed for the new vaper or those looking for a compact alternative. Though it has a small footprint, thin, and barely enough room to notice its existence, the Air 2 Mini Vaporizer still comes equipped with a 1.4mL tank capacity. To further enhance the convenience of using this device, it also has a paired top fill design, making the filling and refilling of the tank easy and quick. Along with a reasonable tank capacity and that top fill design, the VaporFi Air 2 Mini also offers a sight window to indicate how much e-liquid is currently in the tank.
The inclusion of a comfortable mouthpiece, a top airflow design, and the VaporFi Air 2 1.1Ω coil head, you're more than capable of reaching a satisfying experience with the Air 2 Mini. On a full charge, you can expect a wattage output of up to 15 watts, and its 350mAh battery capacity coupled with its wattage output and moderate use for mouth-to-lung users could be an indication that you'll receive plenty of vape time from the Air 2 Mini Vaporizer. If you're considering the Air 2 Mini Vaporizer by VaporFi, we would like you to know that it includes over discharge protection, a micro-USB port for recharging, a paired USB cable and USB wall charger adaptor. In addition to the Air 2 Mini device itself, you'll also receive two VaporFi Air 2 1.1Ω stainless steel coil heads and a VaporFi Air 2 mouthpiece. The Air 2 Mini is available in both black and white color options.
What's fascinating about this kit is that it's an incredible option for new vapers to start using as they transition from traditional cigarettes and it's also a great option for even advanced vapers who are looking for an ultra-compact all-in-one kit. I have vapd since 2011 and I don't like carrying around my weighted mod with me everywhere. There are times when I would like a more minimal setup when I go on runs, shopping, and other activities. The Air 2 Mini by VaporFi would be a nice and convenient option. Just remember, it isn't always about pushing out big clouds, sometimes the convenience of just getting your fix and going about your day seems more reasonable.