When it comes to e-liquid and it's delivery systems, VaporFi is renowned for delivering high quality products that surpass expectations.  Whether it's vape mods, tanks or the flavors themselves, this company has a knack for going the extra step to make the vaping experience more pleasurable.
The Venom RDA is no different, taking ideas from around the vaping world and amalgamating them into one insane product, which is capable of delivering great flavor and killer clouds.  Over the course of the next couple of minutes, we'll pull the Venom apart, look at the specifications, and decide if this rebuildable dripping atomizer will fill you with poison or if its bite's full of love.
A Close Look At The VaporFi Venom RDA
At 22mm in diameter the Venom should have a familiar feel to most RDA users, perfectly designed to sit within the boundaries of most modern vape mods.  Constructed from Stainless Steel, the base borrows ideas from several other companies and improves on them.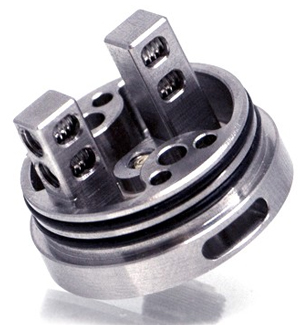 The dual post "Velocity" style of deck is very popular for it's simplicity when it comes to building and VaporFi has taken full advantage of the system.  For single or dual coil builds, there is no easier way to get the job done than the deck style they have chosen.  Allen headed post screws make for simple operation with little chance of stripping. and the deck comes with a group of 4 spares.  The post holes themselves are wide enough to accommodate whatever kind of coils you wish to install, but VaporFi suggests you keep them above 0.5Ω for temperature control wire types and 1.0Ω for Kanthal.  The Peek insulated Positive post can take a beating, but there is no point in trying to destroy it.
Airflow control on the Venom is provided from 2 separate angles.  Beneath the coils you have 2 large airflow channels, built directly into the base, similar to the widely popular "Mad Hatter", a system that by itself creates airflow where you need it for ultimate flavor and cloud production.  Added to this, the adjustable collar also provides top airflow capabilities to cool the vapor as it leaves the chamber, making for a more pleasant vaping experience.

A conical shaped 510 adaptor for a for a regular drip tip, designed to maximise the flavor created by the Venom, can be replaced to install the Delrin Chuff cap, an oversized drip tip with a flat base that is renowned for helping to keep the clouds cooler and help to make them bigger.  VaporFi has designed the Venom to be as inclusive as possible.  Whether you are a low volume vapor looking for amazing flavor or a cloud chaser looking for low ohm capabilities, this thing has you covered.
The Venom wouldn't be VaporFi unless they added a little something extra, and in this case you only find it if you vape above 80 watts.  Hiding in plain site, when the collar reaches a certain temperature the colors begin to change, transforming to a ring of white with a VaporFi VF logo takes the Venom from the edge of epic to straight up extraordinary.