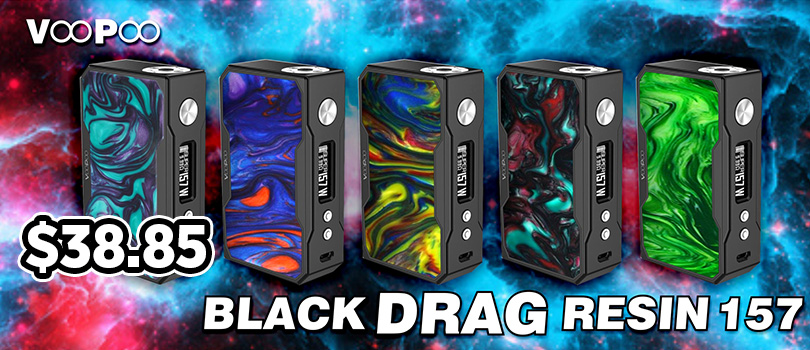 We can't stress enough how quickly you should jump on this deal where you can get the VOOPOO Black Drag Resin Mod for only $38.85 using this coupon. As part of every day low prices and a bloody halloween promotion, this vendor has sliced and diced the prices so low it'll be hard to believe. Believe though because it's real! Using the coupon code "halloween5off" you'll knock off $2.05 (5%) from the $40.90 deal, bringing the total to $38.85! If you spend up to $50 with this vendor, you can knock off 8% from your order using coupon code "halloween8off". Hurry though, this deal will end 11/01/17.
---
[mks_button size="large" title="GET THE BLACK DRAG RESIN MOD FOR $38.85 HERE" style="rounded" url="http://shareasale.com/r.cfm?b=258881&u=821755&m=29576&urllink=www%2Evaporl%2Ecom%2Fvoopoo%2Dblack%2Ddrag%2Dresin%2D157w%2Dmod%2Ehtml&afftrack=" target="_blank" bg_color="#000000″ txt_color="#FFFFFF" icon="" icon_type="" nofollow="1″]
---
Coupon Code (Order More Than $30): halloween5off
Coupon Code (Order More Than $50): halloween8off
Coupon Code (Order More Than $100): halloween10off
Coupon Code (Order More Than $200): halloween12off
The VOOPOO Black Drag Resin Mod
Using a stainless steel frame with a black coating and resin panels, the Black Drag Resin Mod offers a remarkably unique and very appealing design. With great looks, a spring-loaded gold-plated 510 connection with stainless steel threading, a three button configuration, and a 0.91″ OLED display, you'll find that the Black Drag Resin Mod shares both high appeal and function. It houses 18650 batteries and concealed using a dual magnetic battery access door. This battery setup will allow enough power to allow up to 157 watts utilizing the Gene chipset. This chip isn't anything ordinary, in fact, it features a 0.05Ω minimum resistance, 40A max current output, 95% working efficiency, and several different modes to choose from, such as Smart VW, SUPER Mode, a 5-bank memory, and temperature control. In addition, you'll be able to take advantage of the VOOPOO PC App to customize settings and logo, as well as upgrade firmware in the future.