What is the best RDA for cloud chasing?  That's not a very difficult question to answer, and that's because there are so many rebuildable dripping atomizers dedicated towards receiving the best vapor product as possible.  However, it is true, there are some RDA's built for getting the best flavor and some RDA's built for big vapor production, also known as cloud chasing.
When a manufacturer deploys their research and design team, they're typically gunning for a flavor RDA or a cloud chasing RDA, and the size of the chamber, the airflow and the deck size will determine what category the dripping atomizer will fit in.  Below we'll list what to look for in an RDA to determine which category it'll fit in.
The List
Chamber Size:  When looking at a chamber on an RDA, if it's large and further away from the deck, then it's typically meant for cloud chasing.  The reason for this is that the chamber provides a larger volume of airflow to infuse with the vapor.  If the chamber size is smaller and closer to the deck, this places your mouth closer to the coils where it is best to receive the most flavor from the vapor as possible.  However, if a good amount of airflow has been provided on a small chamber, you can still receive great vapor product results even from a smaller chamber size.
Airflow:  One of the most important parts to an RDA is the airflow that is provided.  Most RDA's have adjustable airflow, but even those sometimes do not provide ample airflow for the best possible vapor production.  A cloud chasing RDA will typically have a wide open airflow option and will sport a top drip cap that has a very large-bore.  The more airflow you get the more the vapor can disperse and generate volume.  A flavor RDA will typically be limited on airflow, because limiting the airflow will entrap the vapor, thus providing a better flavor production.
Deck Size:  Though the deck size isn't a crucial part to the making of a cloud chasing RDA, it certainly helps when the deck size is large enough for users to install big and very intricate builds that will help increase the vapor production.  Though a larger deck size isn't required for a flavor RDA, it is the better option since many build types are directed towards receiving the best flavor possible, and those builds can get big and intricate as well.
The Conclusion
It ultimately comes down to your personal preference.  I've seen flavor RDA's produce enormous clouds and I've seen cloud chasing RDA's produce outstanding flavor, so it's all about choosing the best RDA with these 3 perks and building a coil type directed towards increasing the vapor production.  Below I'm going to share a few dripping atomizers that I feel are some of the best RDA's for cloud chasing.
---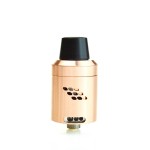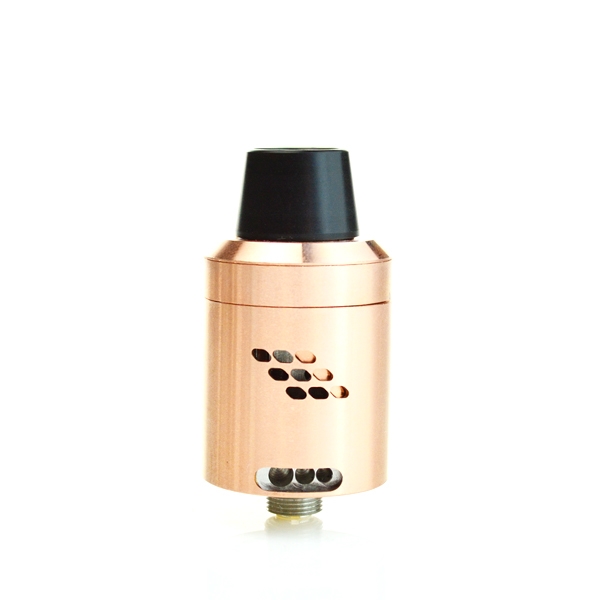 Mutation X V4 RDA Info:  The Mutation X V4 is the fourth generation Mutation X, which was manufactured originally by Indulgence. For those that are unaware, Indulgence is a subsidiary of Unicig. This RDA invokes an innovative design, featuring serrated edges to adjust the airflow holes, much like the version three.  The version 4 includes airflow routed underneath the coils and through the barrel. The airflow that we're sharing with you are all easily adjustable for the perfect vape!  The top cap and drip tip have also been redesigned to deliver a professional appearance and an even better performance.  With the Mutation X V4, cloud chasing will be made easy.
Expect 18 degree drilled airflow holes to create a vortex inside the barrel, the airflow routed underneath the coils for extra variety, comes in an industry standard 22 mm diameter, has a center post positive block, the dual negative posts have been built into the base, enjoy a heat sink top cap, a very deep juice well, and all in a three-piece design.
Mutation X V4 RDA:  GET IT HERE
---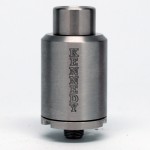 Kennedy V2 RDA Info:  The Kennedy V2 RDA utilizes a bottom airflow design, taking in air from directly underneath the coil, which forces every last bit of vapor the coils put out, straight up for an overwhelming, cloudy and flavorful vape.  The airflow comes from the base of the Kennedy, which leaves your top cap with a sleek and smooth appearance.  Its unique design isn't strictly for looking good, it was also designed this way to be leak resistant.  The airflow is directed to your coils through tunnels that are raised above the build deck.  With this innovative design, it not only free's up the juice well, but also prevents your wick from blocking the airflow.  With the Kennedy V2, you'll gain some amazing flavor, but you'll also get a large vapor production.
Expect a stainless steel construction, a copper center post and a domed chamber top cap.  In addition, you'll be able to take advantage of its FOUR direct bottom air holes and its extra-large juice well – all compacted into an industry standard 22mm diameter.
Kennedy V2 RDA:  GET IT HERE
---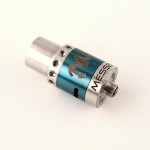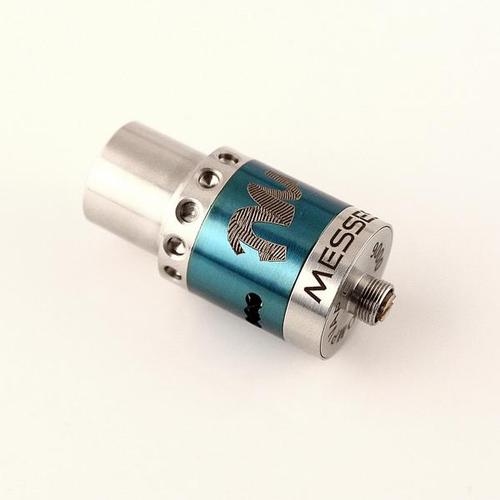 Twisted Messes RDA Info:  The YouTube reality that's become famous within the world of vaping for his coil building tutorials, Twisted Messes, has teamed up with CompVape to produce his version of the perfect RDA for sick coil builds.  Twistes Messes is known for making very elaborate coil builds directed towards producing better flavor and vapor production, so this easily a top pick for this list.  The Twisted Messes RDA has no less than three drip tip/chuff cap options and has a removable outer airflow ring.  It comes with two outer ring options, one that is polished stainless steel and another that is a gun-metal blue ring, both with the Twisted Messes logo.
Expect a mirrored finish on the RDA, a removable ring and deep knurling on the interchangeable top caps.  For massive clouds, the Twisted Messes RDA reveals a cloud making monster deck with four massive 2.8mm holes on the posts.  You'll get a deep 6mm juice well, as well as a peek-insulated twin positive post that has a narrowed trunk at the base.  This allows the rooms for large coils to get the best vapor production for those that are cloud chasing.
Twisted Messes RDA:  GET IT HERE
---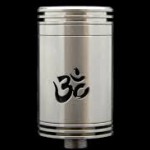 Turbo RDA Info:  If chasing clouds is what you seek, then you'll be highly impressed with the Turbo RDA… being that it was designed for just that, cloud chasers.  The Turbo is a cloud chasers dream, and if these words don't convince you enough, then maybe its delrin turbine fan will get your attention.  Indeed, the Turbo RDA comes packed with a delrin turbine fan inside the top cap for those looking for effortless monstrous cloud production.  In addition the fan cools down the vapor for those high wattage builds and makes an interested "vroooooooom" sound that will have everyone around you talking!
Expect an integrated delrin turbine fan, a stainless steel body and top cap, with a massive pyrex drip top.  In addition, the top cap and deck has heat sink fans to disperse heat, the 510 center pin is adjustable, square posts, negative posts milled into the deck, PEEK insulator, adjustable airflow and a deep 6mm juice well.
Turbo RDA:  GET IT HERE