Many vapers when getting into rebuildable atomizers believe that they can purchase just any RDA and get the best flavor and vapor production.  Though an RDA (rebuildable dripping atomizer) will of course give you an increased flavor and production, that doesn't necessarily mean you're receiving the best you can get.  In fact, many vapers are unaware that some RDA's are made specially for getting the best flavor or best vapor production.  So, what is the best RDA for flavor?  Today, we're going to give you our opinion of the best RDA for flavor.
The Derringer RDA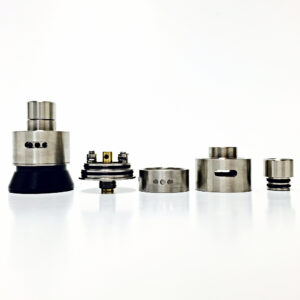 Out of all the RDA's that I've used, and believe me when I say that I've used many, I personally feel that the Derringer RDA is the best for getting the most flavor.  I use this RDA daily on my HexOhm V2 and typically with e-liquids that I want to get the most flavor from.  I've ranted and raved about this RDA, and it's honestly because I want others to receive the same great experience that I am receiving.  With that said, this post makes yet another that I'll use in an attempt to help you get a huge flavor increase just like I'm getting.  Let me tell you a bit about the Derringer RDA.
The Derringer RDA, originally manufactured by Praxis Vapors, is the shortest RDA currently out on the market.  In fact, it stands only 17mm high and has a diameter of 22mm.  The Derringer isn't just known for its small size, it's also known for its high-grade stainless steel construction, its stainless contact, its slotted post holes, and its fully adjustable dual independent airflow control.
The Derringer uses a unique inner airflow ring with single or dual coil options and a top cap featuring cyclops style holes for many airflow configurations.  The removable ring not only makes building very easy since it opens up the deck, but reduces leaking to a minimum.  The shortened height naturally increases vapor condensing and flavor production, which is why the Derringer RDA has become very well-known for the boost in flavor that it gives off.  The Derringer has a three post design, and those posts are even slotted, which makes wire arrangement easy with allen screws to guarantee maximum contact for conductivity.  And last, but certainly not the least, the Derringer has been milled out of a single block of steel to ensure that it is durable and made to last.  What it comes down to is that with such a small size, the vapor is condensed and creates an explosion of mouth-watering flavor.
Derringer RDA:  GET IT HERE
Derringer RDA Clone:  GET IT HERE
---
Derringer RDA Enano Competition Cap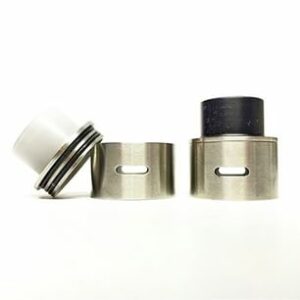 The Derringer delivers outstanding flavor, and it even offers a good amount of vapor too.  However, if you want to take things a step further with the vapor production, Mystic Atmos has released the Enano Derringer Competition Cap, which is a widebore cap for the Derringer.  After using my Derringer for a while, then using the Enano Competition Cap with it, it gave life to my Derringer as far as vapor production goes.  I of course noticed a small drop in flavor because of the very wide open and increase airflow, but it still delivers satisfying results.
Derringer Enano Competition Cap:  GET IT HERE
Note: The Enano Cap may not fit some cloned Derringer RDA's.  The cloned Derringer RDA that I own, the Enano happen to fit it perfectly.  Purchase this item at your own risk.