As many are aware, the Food and Drug Administration have doomed the vaping industry as we know it when the Obama Administration FDA announced just last year that it would deem all vapor products as tobacco products. By being classified as a tobacco product, unfortunately all vapor products will fall into the punishing hands of the FDA. However, this can all change with President Trump in office. In fact, our very own Gregory Conley, president of the American Vaping Association, continues to share his glimmer of hope throughout social media, saying that "the signs continue to point to favorable treatment for vaping by the administration."
What has many vaping consumers, vendors, manufacturers, and advocates in an uproar isn't so much that the industry is being regulated by the FDA, it's the predicate date the FDA has issued, virtually wiping out all products introduced to the market after Feb. 15, 2007. As of now, manufacturers are going through the registration process to have their products on file, but when, excuse my french, shit hits the fan, the smaller vapor manufacturers and suppliers would be, excuse my french again, up shit creek without a paddle. But why? Well, it's estimated that the cost of compliance would be roughly $1 million per product, meaning smaller businesses will be snuffed out while big tobacco companies take control of the vaping industry — they're the only one's in the game that can afford it.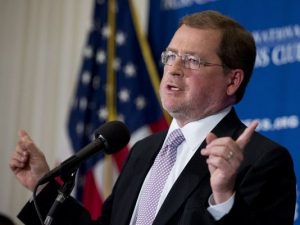 President Trump could save vaping and millions of vapers that would otherwise resort back to traditional cigarettes. The bright side to the Trump Administration is that not only has President Trump voiced his concern over the governments burdensome regulatory stance, but he's also had talks with people like Grover Norquist, Americans for Tax Reform President, someone who has already been in early talks with the Trump administration officials to ensure the FDA's rules are delayed for up to two years to allow enough time for Congress to pass bills nullifying the Obama-era regulations. There's also a sign of hope with Wisconsin Senator Ron Johnson, which has openly thanked the vaping community for their support in his race, promising to advocate for them in Washington. Sen. Johnson recently met with Trump, but it hasn't been confirmed if vaping or the FDA rules were discussed. And then, we also have Trump's nomination of Georgia Congressman Tom Price as Secretary of Health and Human Services, someone that voted no on the Tobacco Control Act of 2009, and Gottlieb, the FDA director nominee, both of whom showing sympathy to the vaping industry. With Trump's stance against burdensome regulations and several allies within the White House, it may appear that President Trump and his administration could save vaping.
Although the glimmer of hope still rests heavily in Conley's eyes, he also shared in a recent article that "President Trump himself hasn't said anything about where he stands on electronic cigarettes."
When you're dealing with presidential politics, you don't need to influence the man at the top, when that man has not taken a position on your issue. You need to make other people in the administration know that it is important, and good things can results.
As of now, vapers seem optimistic, especially when the face of vaping advocacy, Gregory Conley, has shown so much confidence in the new president and his administration. Although this article has painted quite the beautiful picture of a Trump presidency, we're truly still left unsure whether President Trump will save vaping before the Aug. 8, 2018 final regulations take effect — but it doesn't hurt to stay optimistic and promote hopefulness. Thank you for reading.
Do you think President Trump will save vaping? Please let us know your thoughts in the comment section below.